ProForm Pro C10U - Solid, Affordable Upright Bike
With all of the features you'd expect from ProForm and a price tag that doesn't break your budget, the Pro C10U upright bike is the latest offering in the company lineup. It has a small footprint, is easy to move and adjusts to accommodate any size user so there's plenty to like about this new model.
The Pro C10U replaces the 8.0 EX and has a few key differences that make it stand out, so we couldn't wait to see for ourselves exactly what this brand new model has to offer and how it compares to similar bikes at its price point.
Let's start with a closer look at the Pro C10U...
The Bike
At just $599 on sale, the Pro C10U sits squarely in the low- to mid-level range, making it an affordable choice for your home gym. For that price, you get plenty of features that provide a challenging workout for every member of the family.
What's included...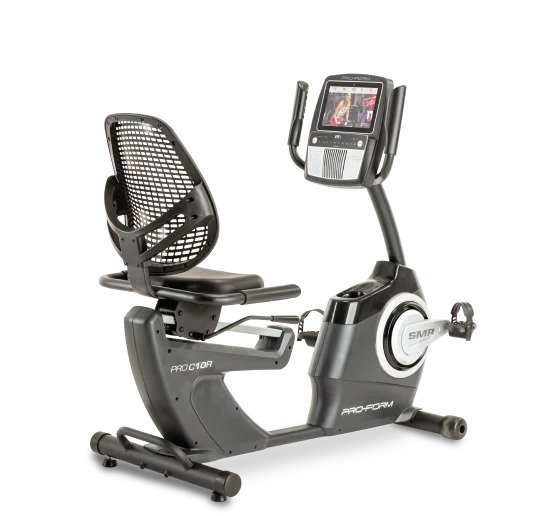 25 Resistance Levels with SMR Silent Magnet Resistance

 

Free 30 day iFit Family Membership included in purchase price

10" Smart HD Touchscreen

Upright Frame with High-Quality Construction

Inertia-Enhanced Flywheel

Ergonomic Pedals with Adjustable Straps

CoolAire Fan, Dual 2" Bluetooth Speakers, Bluetooth Headphone Compatible, Front-Mounted Transport Wheels, Water Bottle Holder, Oversized Leveling Feet

325 lb User Weight Capacity

10 Years on Frame, 2 Years on Parts, and 1 Year on Labor

21.2" W x 34.5" D x 58" H footprint

The Buzz
As a replacement for the 8.0 EX, the Pro C10U has some distinct differences, starting with the 10" Smart HD Touchscreen, which is definitely an improvement over the 5" backlit display on the 8.0 EX.
The 8.0 EX did come with 30 on-board workouts and was iFit ready but the larger, easy to use display on the Pro C10U coupled with a free 30 day iFit family membership gives you an even wider choice of trainer led programs and keeps all of your stats right at your fingertips.  
Even though it has a streamlined footprint, the Pro C10U still has a substantial 325 lb. user weight capacity, compared to the slightly larger footprint and only 300 lb. weight capacity of the 8.0 EX. Aside from that, both bikes offer many similar features including 25 levels of silent magnetic resistance, an oversized seat that can be adjusted horizontally and vertically to accommodate users of many different heights, built-in water bottle holder and front mounted wheels for easy movement.
Another distinct difference between the two is a lack of built-in heart monitoring on the Pro C10U, while the 8.0 EX had EKG Grip Pulse Heart Rate Sensors integrated into the handlebars.
Despite the lack of heart rate sensors, the Pro C10U, and its recumbent counterpart Pro C10R, has plenty to offer, starting with its comfortable upright frame made from premium long-lasting materials. It also has an oversized, cushioned ergonomic seat that easily adjusts to accommodate users of any height as well as ergonomic pedals with adjustable straps.
Of course, the main feature of this bike is the big 10" Smart HD Touchscreen, which helps you get the most out of your workout and lets you take in all of your stats at a glance. With the touch of a finger you can control the fan settings, audio levels and choose your workout programs. You can also choose from any of the 25 resistance levels and easily adjust resistance on the fly without slowing your pace.
A 30 day free family iFit membership is included with the purchase of the Pro C10U and with it you have unlimited access to a wide range of workouts, including strength training and studio classes, all led by professional trainers. If you'd prefer something less structured, you can opt for a scenic ride in real world locations around the globe.
Another great feature are the Interactive workouts, which let the trainers automatically adjust your resistance for you as you go, ensuring that you'll be getting a great workout tailored specifically to your individual needs. 
While the Pro C10U gives you a great lower body workout, it doesn't stop there. We were particularly excited by the ability to access off-bike iFit workouts that engage the upper body as well. This was a terrific advantage that makes the added expense of the iFit membership well worth it.
iFit also provides the ability to track all of your stats, including speed, time, calories burned, cadence and resistance level so you can see exactly how much progress you're making and tailor your workouts accordingly.
Built-in immersive dual 2" speakers provide surprisingly good sound quality that lets you enjoy your favorite music or have clear instructions from the iFit trainers. The Pro C10U is also fully Bluetooth Headphone compatible if you want to listen without disturbing anyone around you.
The fully adjustable ergonomic seat is built for comfort and the ergonomic pedals allow for a number of different foot positions. An inertia-enhanced flywheel makes for a smooth and steady pedal stroke which gives a more natural cycling experience. 
Along with all of that there's also a built-in water bottle holder, CoolAire fan with two speed settings, and adjustable oversized leveling feet that help to keep the bike stable on any type of surface. 
The relatively small footprint lets the Pro C10U fit easily into a home gym or the corner of your master bedroom and the front mounted transport wheels allow for easy movement from one place to another.
How Does the Pro C10U Stand Up to the Competition?
With so much to offer it's easy to get excited about the Pro C10U but let's see how well it actually stacks up against similar models in its price range.
The Schwinn 170 retails for around $500 or so and offers a padded contoured seat with post for easy seat exchange with any clamp and rail bicycle seat, 25 resistance levels, adjustable angle, padded handlebars, and oversized pedals with toe straps for multiple users as well as a front mounted water bottle holder.
Its fully loaded console features DualTrack blue backlit LCD screens with 29 workout programs and a built-in device shelf that lets you keep an eye on your stats while enjoying your favorite show or reading on your Kindle. Enhanced Bluetooth connectivity lets users set, track and monitor progress with popular app-based tracking tools and with an Explore the World subscription, you can enjoy real world rides from locations across the globe. Unlike the Pro C10U it also has ergonomically placed contact heart rate sensors that enable you to track your heart rate.
The Nautilus U618, retailing at $650, includes an adjustable sight line console with dual blue backlit screens and 29 customizable workout programs, 25 resistance levels, enhanced Bluetooth connectivity and a built-in device shelf that allows users to access many different app-based tracking tools on their tablet or smartphone.
With an additional Explore the World subscription you can enjoy 50+ global routes that auto-adjust in real time to your speed. Additional features include multi-position handlebars with integrated incline and resistance controls and a 3-piece chrome crank system with weighted pedals. You can monitor your heart rate with a wireless chest strap, which is included with the bike, or with the contact hand grips.
An interesting option from Xterra is the Air350 Air Bike, which retails at $499 and has a 6 blade flywheel for variable resistance based on your fitness level. It also has a heavy-duty belt drive system which eliminates the maintenance and mess of a bike chain, a simple yet effective interface with a 3.8" x 1.8" LCD display where you can track all of your workout metrics, and an ergonomically molded, padded seat for maximum comfort.
Other features include a built in water bottle holder and large foot pads that are knurled to allow for a better grip so that you can rest your feet while enjoying a targeted upper body workout. It has a compact frame and built-in transportation wheels that allow for easy movement and a user weight limit of 250 lbs.
Bottom Line on the ProForm Pro C10U Upright Bike
As a mid level bike, the ProForm Pro C10U has plenty to offer. We were pleased with the price as well as the relatively small footprint and the built-in transport wheels that make it easy to move, all of which makes it a great option for exercising at home.
The console is a good size and the touchscreen capability makes it easy to use, while the iFit program gives you plenty of workout options. We were especially happy with the ability to access off-bike programs, enabling us to work the upper body as well as the legs. The large, clear display made it easy to keep track of all the necessary stats at a glance, which was also nice.
We did wish that it still had the built-in heart rate sensors that the 8.0 EX had, but there weren't any other real negatives we could find.
All in all, the ProForm Pro C10U is a solid, mid-level bike that won't take over your home or strain your budget.