Spinning Exercise Bikes – High Intensity Training at Home
Specially designed for high intensity training, spinning exercise bikes are available for home use. Ride along to an instructional DVD and you'll get the excitement of a personal trainer providing inspiration, setting the pace, and urging you on to a superior cardio pounding workout.
From the Public Facility to Your Home
If spinning exercise bikes are available in your area, you can participate in a Spin® class no matter what fitness level you are at. The goal is to get in shape and stay motivated to reach your goals so all comers are welcome.
The fundamentals of the program teach you how to improve your strength and stamina, increase endurance, and burn calories. Then, by adding motivation, visualization, and energizing music, Spinning classes become a fun and fitness-enhancing way to workout in a group setting.
These specialized exercise bikes have set the standard for indoor cycle equipment and are currently used in over 35,000 fitness facilities around the world.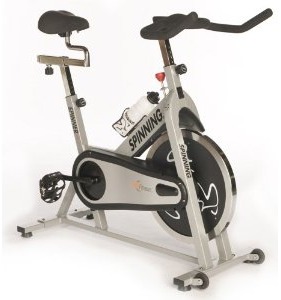 You can now do these sprints, intervals, and workouts at home too, thanks to affordable spinning exercise bikes that feature quality components with the highest levels of revolutions per minute or RPMs. Pop in an instructional DVD and pedal along to a high intensity workout that burns over 1000 calories in a single session.
Offering a feel and ride very similar to a road bike, the indoor cycle used in spinning is different from traditional upright bike models. With adjustable seat and handlebars, and a heavy open flywheel, these cycling machines use friction-based resistance to provide unlimited resistance levels.
Compare Popular Spinning Exercise Bikes On Sale at Amazon
A Look at the Spinning Bikes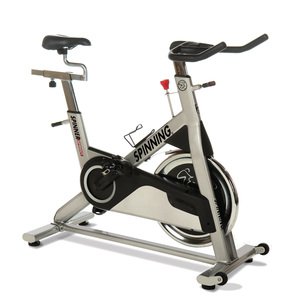 Made by Star Trac and Mad Dogg Athletics, the Spinner® bike models include the Performance Series (Bella Women's Bike, Aero, Edge and Sprint), Sports Series (S1) and Spin Series (R1 and R3).
There's also a Commercial Series consisting of the Blade, Blade Belt, Bade ION and Rally bikes.
The best-selling Spinner Pro is a commercial exercise bike but often recommended for use by home users. It has an MSRP at $1,199 but can be found online as a remanufactured model for around $650. It features fixed gearing and a high inertia 38-lb flywheel, and a flexible seat base with double-density padding and an anatomical cutout for comfort.
If you feel the need for a long ride or a thigh-burning uphill climb, the Spinner Pro is the spinning bike to do it on. It emphasizes proper hand and body positioning for optimal performance.
Another important point: since you can move the handlebars fore and aft, the Pro is fully adjustable to fit small or large individuals on the same bike.
Alternatives to the Trademark Bikes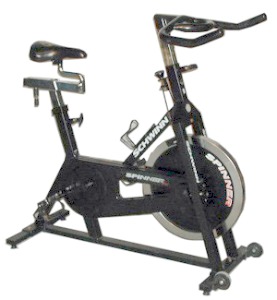 The Spinner® bike is used in Spin classes, but other open flywheel models are also generally categorized as being spinning exercise bikes. For example, the Schwinn A.C. Classic, which stands for "Authentic Cycling," has a frictionless system that gives a true bike feel and performance and holds up to hours of intense training.
Although it has been discontinued by Schwinn, it is still available online until supplies run out. Other Spinner bikes or indoor cycle bikes have similar designs and offer the quality feel of commercial models.
They are a decent alternative to the trademark Spin® bike and provide you with the tool you need for high intensity training.
You can check out of top indoor cycle picks here for an alternative to the official branded Spin bikes.