The CycleOps Trainer is a Must Have Tool For Cyclists
If you are a dedicated cyclist, the CycleOps trainer is a tool that you are probably familiar with. The company produces some of the best quality indoor cycles and trainers on the market today and offers a surprisingly wide range of products at various price points.
An Overview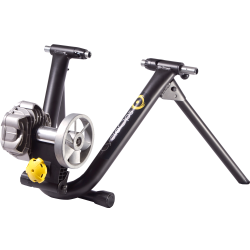 CycleOps trainers are generally very durable, offer a wide range of resistance levels, and come with a variety of innovative features to make your workouts more efficient and add some variety to your routine.
CycleOps offers you six different options in terms of indoor trainers – Wind, Magnetic, Progressive Magnetic, Fluid, Electronic, and Electromagnetic.
The first thing that strikes you about these trainers is their build quality. From the cheapest model (Wind Trainer) to the most expensive one (Hammer Direct Drive Trainer), every single machine in the lineup is solidly built. All the trainers come with a lifetime warranty as well, which is pretty amazing.
The entry level trainers like the Wind Trainer and the Mag+ Trainer are very affordably priced and give excellent value for your money. As you move to the mid-level and advanced trainers, the price tag increases considerably. The mid-level and high-end trainers, however, have additional features that justify the increase in price tag.
See the entire new lineup on sale now at Amazon!
Standout Features
When you take a look at the mid-level and high-end trainers in the CycleOps lineup, you will notice that there are two key features that stand out – PowerTap and VirtualTraining.
PowerTap is a technology which measures your power output during each workout in terms of watts. The higher the number of watts, the higher your power output during the workout. It allows you to get a good idea as to how much effort you're putting into your workouts and what kind of results you get, based on which you can make adjustments to your workout routine.
 VirtualTraining is a software program which brings the joys of outdoor riding right to your workout space. All you need to do is download the app and pair your smartphone, tablet, laptop, or PC to your cycle. You can then choose a cycling route from Google Maps or map your own route.
You can watch the route on the screen and ride your heart out. The software even has a controlled resistance mode where your trainer's resistance increases and decreases automatically based on the slope of the route you choose. It makes for an incredibly real riding experience.
What is surprising is that all the trainers in the lineup support the VirtualTraining option. Every single trainer is compatible with CycleOps' own VirtualTraining software, as well as other virtual training applications like Zwift, TrainerRoad, and so on.
Different Types of Resistance
CycleOps trainers have different types of resistance systems. Linear resistance means the resistance changes in proportion to the shift in gear or change in your pedal speed. Progressive resistance means the resistance increases as you pedal faster, just as it does on the road.
Adjustable resistance means you have different resistance settings, from which you can choose one that suits your workout style and goals best. Controlled resistance means you can preset power, slope, and other metrics and predefine your workouts.
Generally, it is a good idea to opt for a progressive trainer if you want a true 'road like' feel. If you like having more control over the resistance level or if you have very specific fitness goals to achieve, controlled resistance trainers would be a better choice.
Now, let us take a look at all of the CycleOps trainer options that you currently have...
A Look at the CycleOps Trainers
Wind
It is the quintessential entry-level, budget-friendly trainer – compactly designed, foldable, and easy to set up. The ride is smooth and frictionless and the progressive resistance system makes you feel like you are riding the bike on the streets. The only downside is that it is quite noisy.
Mag+                  
Yet another budget-friendly trainer in the lineup, the Mag+ features magnetic resistance, which offers a quiet and frictionless riding experience. Just like the Wind Trainer, this one too is foldable. It comes with leveling feet, so it stays stable even if the surface is a little uneven. 
The Mag+ is a linear resistance trainer, which means the resistance increases with each stroke of the pedal and shift of the gear. The noise produced during workouts is in the 70-74 decibel range, which while not whisper quiet is definitely quieter than the Wind Trainer.
This CycleOps trainer has an adjustable handlebar mounted shifter. It can fit common road bikes as well as mountain bikes. This is actually a very solid entry level trainer with a very attractive price tag. The only downside is that it has a linear resistance system, which does not exactly offer a true 'road like' feel while you ride the bike. Other than that, this is a solid trainer.
Magneto
The Magneto is a magnetic trainer with a progressive resistance system – so it offers you the best of both worlds in a sense. It is foldable, comes with a set of leveling feet, and can fit road bikes and mountain bikes. It is also very quiet – only makes around 66-68 decibels of noise when you ride at 20 mph.
Fluid2
This is undoubtedly one of the best trainers in the lineup. It is a fluid trainer, which means the riding experience is a lot quieter, smoother, and more consistent than a wind or magnetic trainer. It has a large-sized, precision-balanced flywheel, which when combined with the progressive resistance system, offers you a true, road-like riding experience.
The trainer is PowerTuned, which means it can produce the widest range of resistance you can think of for a true road-like feel. With a noise level of 64-68 decibels, it is one of the quietest trainers on the market today. It has a built-in cooling fan to make sure the components do not overheat and last really long. On the whole, the CycleOps Fluid2 is an excellent trainer and happens to be the best selling trainer in the country, fittingly so.
JetFluid Pro
The JetFluid Pro offers a combination of PowerTuned and progressive resistance for a road-like feel. It comes pre-assembled and the one-sided frame mount makes fitting and removing your bike a breeze. It is quite similar to the Fluid2 in terms of features, but is slightly noisier.
SuperMagneto Pro
This CycleOps trainer comes pre-assembled and has four levels of progressive resistance settings. You can choose a setting depending on your workout routine, fitness level, and fitness goals. It is PowerTuned, just like the Fluid2 and JetFluid Pro.
PowerSync
It features a PowerTap meter, which measures and displays your power output in watts. The programmable workout option allows you to adjust the slope, power, and other such metrics before a workout. There are two models of PowerSync – one is compatible with ANT+ and the other one with Bluetooth Smart. Both versions are compatible with VirtualTraining and a number of other software applications.
Magnus
It has a PowerTap meter to measure your workout output and has built-in ANT+ and Bluetooth Smart connectivity. It has a peak resistance of 1500 watts. Thanks to the fast-response electromagnetic system, any increase or decrease in resistance is swift, smooth, and precise.
Silencer Direct Drive
With a noise level of 59-64 decibels, it is perhaps the most silent trainer in the lineup and is aptly named. It offers five levels of magnetic resistance. The downside is that it does not have a PowerTap meter or built-in ANT+ and Bluetooth Smart connectivity, despite its high price tag.
PowerBeam Pro
It comes with a PowerTap meter for accurate workout output readings. It is available in three different versions – one compatible with ANT+, one with ANT+ and Joule GPS+, and one with Bluetooth Smart. It allows you to program and predefine your workouts with your own choice of metrics and variables.
Hammer Direct Drive
The most advanced trainer in the lineup, the Hammer Direct Drive comes with a full suite of features including a PowerTap meter, built-in ANT+ FE-C and Bluetooth technologies, virtual training compatibility, large, precision-balanced flywheel, smooth and silent electromagnetic resistance, built-in cooling mechanism, and more. It is also whisper quiet with a noise level of just 64 decibels.
CycleOps Trainers - Summary
CycleOps is known for making quality products and deservedly enjoys a lot of goodwill among its customer base. Its trainers are among the best selling ones on the market today. They are solidly built and can last a lifetime if maintained properly.
They offer the widest range of resistance levels, which gives lots of options for everyone –  from beginners to serious bikers. They also have innovative features like PowerTap and VirtualTraining, which increase the efficiency of your workouts and help you get better, faster results and also add a little variety and excitement to an otherwise mundane workout program.
On the whole, CycleOps trainers are of high quality, very reliable, and give great value for your money. They are also available at many different price points, so no matter what your budget is, you should be able to choose one that meets your needs.
Get more info and special sale pricing on all of the trainers now!
---