Proform Le Tour De France Indoor Cycling Bike
The ProForm Le Tour de France Indoor Cycling Bike – A Heavy Duty Trainer
Debuting in July of 2011, the ProForm Le Tour de France Indoor Cycling Bike features an exciting angling frame that allows for more realistic training than your average spin bike or stationary cycle.
The Bike
The full color high-resolution screen display on the console lets the user "watch" the terrain roll by as it appears via Google Maps on the iFit Live feature. The console also displays a watts meter, and readouts for speed, time, distance, RPM, gear, hear rate, calories, and incline/decline percent.
The ProForm Le Tour de France Indoor Cycling Bike features:
SMR™ Silent Magnetic Resistance
30 Customizable electronic gears
Up to 20% Incline / 20% Decline
24 workout apps
Web Enabled touchscreen (Pro 5.0)
Combination SPD-compatible Pedals
iFit enabled
Multi-point saddle adjustments
Polar® Wireless HR monitoring (strap not included)
Compatible Music Port for iPod® + built-in speaker
Max User Weight: 350 lbs
Dimensions: 58"L x 25"W x 59"H

The Buzz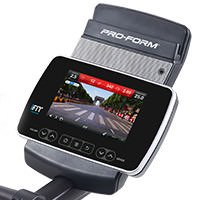 UPDATE: As of 2017 the Tour De France bike is now called Studio Studio Bike Pro.  Read our review of the Studio Bike Pro here.
-----------------------------
There are currently three different models to choose from.  You have the base TDF 1.0 (the newest model), the mid-level TDF 2.0 and the top of the line TDF 5.0 exercise bike.  The 4.0 is no longer available.
The TDF 1.0 is the base model in the Tour De France series, and costs around $999 or so when it is on sale.  It features a round watts LED display and iFit Bluetooth technology for maps and tracking.
The TDF 2.0 costs around $1,299 on sale and features a power meter LCD display and is iFit enabled.  You can use your tablet for iFit as on the 1.0 model.
The TDF Pro 5.0 features a 10" color web-enabled touch screen, and is currently around $1,999.  You can view iFit right on the machine itseld.
Other than the displays, all of the ProForm Tour De France bikes are relatively the same with a few minor differences.  The Pro 5.0 model comes with HD workout videos.
With their 24 digital gear controls and interactive incline and decline frame, the ProForm Le Tour de France Indoor Cycling Bikes simulate what you might feel out on the road over real terrain. It features iFit Live™ Technology Powered by Google Maps™ which lets you virtually ride any road in the world from city streets to country lanes. There are pre-mapped courses to start with or you can also create your own route. An iFit.com membership is required at around $99 per year.
Since it is named after the famous Tour de France annual bike race, the cycle's programs also include 10 stages from the race including 30 kilometers of Stage 8 (Aigurande to Super-Besse Sancy), Stage 13 (Pau to Lourdes), and Stage 19 (Modane to Alpe-d'Huez).
The incline/decline frame automatically adjusts to the terrain (up to 20% gradient), while the Real Road™ Resistance technology adjusts the resistance on the bike to simulate wind resistance. This is done by an onboard computer that takes your height and weight (that you've entered on screen) and then applies the proper amount of resistance to the rear flywheel, matching what you would experience on the open road.
Other features of the Le Tour de France indoor bike include a heavy weighted freewheel, touch-less magnetic resistance (instead of friction resistance), 24 gears, multi-position handlebars, an adjustable padded saddle, standard seat mount (so you can switch seats), standard pedal mounting (to switch pedal systems), oversized pedals with toe cages, and a user weight capacity of 350 pounds.
Our Take on the Tour De France Exercise Bikes
As the official training bike of Le Tour de France, the ProForm Indoor Cycling Bikes are endorsed by many top riders.
All of the models have improved significantly over the years, giving you more of a real world riding experience with drop handlebars, gear changing ability and automatic incline, decline and resistance changing to match your chosen course.
The Pro models are definitely more impressive than the base TDF 2.0, but they are also more expensive.  If you don't might using your tablet to see your maps or browse the internet, you can save yourself about $700 and just go with the base model.
Overall, though, the ProForm Le Tour de France Indoor Cycling Bikes are heavy duty trainers that sell quite well for ProForm, and definitely allow you to get as close to an outside course experience as possible.

Show me other ProForm Exercise Bikes