The ProForm Studio Bike Brings the Gym To You
The Studio Bike is the entry level machine in ProForm's Tour de France Series. Designed to bring the joys of outdoor cycling right to your workout room, it comes with a variety of features including a neatly designed LED display, 15% incline and decline, iFit Coach Plus training, Silent Magnetic Resistance system, and dumbbells for upper body workouts.
The Bike
The Studio Bike has a fully rotatable console, which can be turned 180° and tilted up and down. The innovatively designed Round Watts LED display shows your power output, based on which you can tell if you are in the right heart rate zone.
Let's take a look at the specs...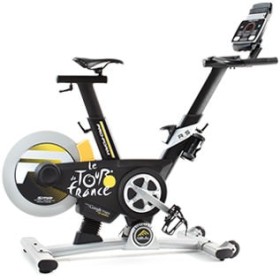 24 Built-In Workout Apps 
iFit Connectivity 
15% Incline/15% Decline
Round Watts LED Display
Wireless Heart Rate Tracking
Silent Magnetic Resistance
3 lb. Dumbbells for Upper Body
Adjustable Seat and Handlebars 
Tablet Holder, Workout Fan, MP3 Port, Water Bottle Holder, Adjustable Leveling Feet, and Transport Wheels 
350 lb User Weight Capacity Lifetime Warranty on Frame, Three Years on Parts, and One Year on Labor
Check out this great new bike on sale now at the company site!
The Buzz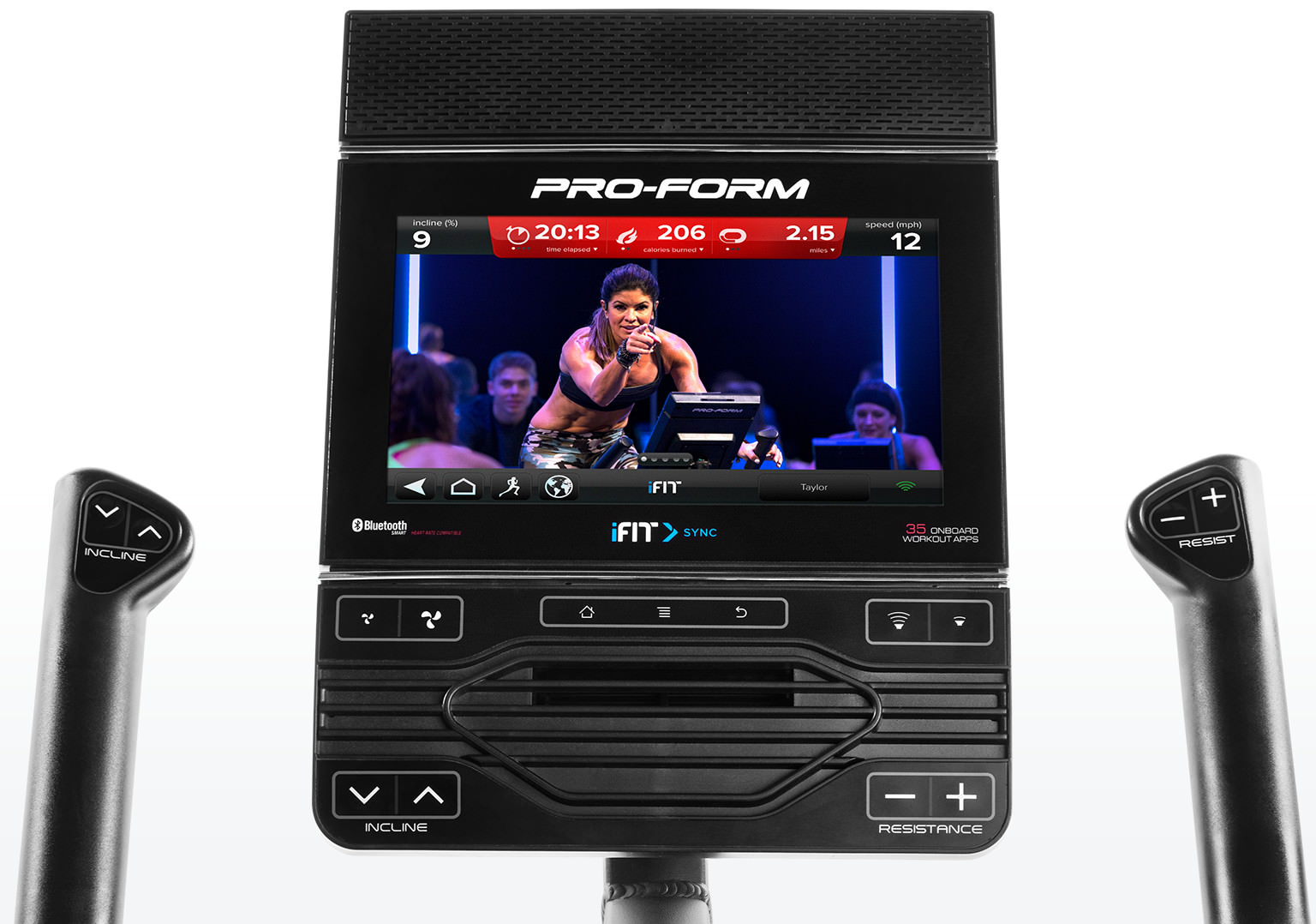 The first thing that strikes you about the ProForm Studio Bike is its stylish design. It looks like one of those hi-tech bikes you will find in health clubs and high-end gyms. It is quite sturdy too – the frame is made of commercial gauge steel.
The USP of the bike is its incline/decline capacity. It inclines up to 15% and declines down to 15%. It is quite steep, especially considering the fact that this is an entry level model. The other bike in the series – the Studio Bike Pro – has an even greater incline and decline capacity at 20%.
 It is an excellent feature which allows you to simulate cycling up and down hills. When combined with the iFit feature, it takes your workout session to a whole another level. With iFit, you can choose any biking trail from Google Maps and the bike will automatically adjust the incline and decline settings to simulate the terrain. You can also watch the terrain on your tablet, which makes it a very realistic experience.
 An iFit Coach Plus membership gives you access to LiveCast classes on a daily basis, where you can watch and learn from certified fitness professionals. It also gives you access to a huge workout library, stacked with all kinds of training videos. You can get fitness and nutrition instructions from professionals. You can compete with other members from the iFit community and track and compare your progress as well.
 The bike comes with a pair of 3 lb dumbbells for upper body workouts. It is a good idea, as you can get off the bike and work the muscles in your upper body, rather than limiting yourself to lower body workouts alone. You can tilt and turn the console any way you want and watch LiveCast classes while working out with the dumbbells.
The bike has a Bluetooth compatible heart rate receiver to track your heart rate during workouts. If you have a wireless chest strap, you can use it to monitor your heart rate while you train.
The Silent Magnetic Resistance, true to its name, is smooth and noiseless and allows you to increase or decrease the intensity of your workouts instantly. The seat and the handlebars can be adjusted vertically and horizontally, which cuts down the risk of fatigue and injuries caused by bad posture.
 The bike has a 350 lb weight capacity, which is pretty great for an entry level model. The base levelers ensure that the bike stays rock solid even during high-intensity workouts. The transport wheels make it easier for you to move the bike around.
The workout fan, with two different speed settings, keeps you cool while you train. The bike also has built-in dumbbell holders as well as a water bottle holder.
The bike has a nice sound system, which includes an MP3 port and two speakers. You can simply plug in your iPod or MP3 player and listen to your workout play list for added motivation.
Is there anything that we do not like about the Studio Bike? Nothing really, as ProForm has pretty much got everything right with this one. There are, however, a couple of things that we need to point out for the cost-conscious among you.
First, the bike's price is not inclusive of the iFit membership. You need to pay for it separately. Second, you need a tablet to be able to watch LiveCast classes and enjoy the Google Maps Street View feature while you work out.  Other than this though, there's not much to complain about.
Our Take on the Studio Bike
The Studio Bike is a top-notch exercise bike from ProForm. For an entry level model, the bike has a surprisingly wide range of features – from incline/decline capacity to iFit connectivity. The degree of customization built in is also impressive for an entry level bike – the seat, handlebars, and even the console can be adjusted fully.
You have to pay extra for the iFit Coach Plus membership, but it is well worth spending money on and gives you access to a ton of interactive features.
You need your own tablet to be able to watch the workout videos and LiveCast lessons. If you want, you can opt for the Studio Pro which comes with a web enabled HD touchscreen display.
In summation, the Studio Bike is an excellent choice for beginners, mid-level trainers, and casual users who are looking to lose weight, get in shape, and develop their cardio. At less than $1,000, it is very reasonably priced and offers terrific value for your money.