Nordictrack Gx4.2 Pro Upright Bike
The NordicTrack GX4.2 Pro Upright Bike - New for 2013
New in 2013 is the NordicTrack GX4.2 Pro upright bike, part of NordicTrack's Pro series. Listing at around $700, it's usually on sale for about $500.
The Bike
The GX4.2 Pro has a battery powered 5" console that displays speed, distance, time elapsed, calories and pulse and displays a ¼ mile track. The 28 workouts and 22 resistance levels give you plenty of variety regardless of your fitness level.
The specs on the NordicTrack GX4.2 Pro upright bike are:
SMR™ Silent Magnetic Resistance
22 Resistance Levels
28 Workout Programs
Compatible Music Port for iPod® w/speakers
Intermix Acoustics™ 2.0 Sound System
iFit Live™ Compatible*
Handlebar grips with heart rate monitoring and chest strap
Pedals with Adjustable Straps
Maximum user weight: 300 lbs.
Dimensions: 43.5"L x 24.85"W x 59.5"H
Warranty: lifetime frame, 1-year parts and labor
The Buzz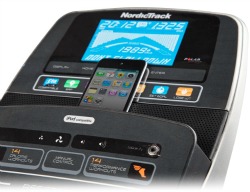 UPDATE:  The GX 4.2 has been discontinued and replaced by the upgraded new NordicTrack Commercial VU19 Upright. Check that one out to see what it's all about!
The NordicTrack GX4.2 Pro upright bike is another new model for 2013 and reviews are pretty scarce at this point.
Most users focus their reviews on the improved range of workout programs and resistance levels. The Pro tag in the name is more about the variety of programs than about a huge difference in the overall quality of the frame or parts.
There are still reviewers that complain about assembling this new upright bike because the instructions seem confusing and some of the smaller parts are cheaply made.
Reviews fall into two camps - those who are focused on immediate needs and those who are looking at the long term. Immediate positive notes are the 28 workout programs, which would be impressive even on a more expensive machine.
The 300 pound user weight limit is higher than on the GX2.5 by 25 pounds and reviewers felt that this was an extremely stable machine for the price. For long-term thinkers, the one year warranty on parts was still a problem.
Our Take
The iFit technology works well with the 28 workout programs and 22 resistance levels, which can combine in different ways for virtually limitless workouts, so the NordicTrack GX4.2 Pro upright bike certainly gives you lots of options to stay motivated.
The 5" console is very easy to use and gives you lots of feedback.
Our only complaint is that for $500, you can find other brands that offer a better warranty. Two or three years on parts seems reasonable; we hope NordicTrack will take notice.