The NordicTrack GX 4.6 Pro Gives Internet Access
The GX 4.6 Pro is the more advanced model in NordicTrack's upright stationary bike series, with an internet-equipped touch screen, more workout programs and a higher weight capacity.  At around $699 on sale,  it has a lot to offer compared to the competition in this price category.
The Bike
The GX 4.6 Pro has a 7" web-enabled touch screen display so you can access the internet, check your social pages or watch videos while you workout, as well as keep track of all of your stats like time, distance, calories and resistance level.
Let's take a look at some of the important specs...
SMR™ Silent Magnetic Resistance
24 resistance levels
32 workout programs
Compatible Music Port for iPod® w/speakers
iFit Enabled
CardioGrip/wireless heart rate sensors
Chest strap included
Extra wide ergonomic pedals
Maximum user weight: 325 lbs.
Dimensions: 41.25"L x 24.8"W x 60"H
Warranty: Lifetime frame, 3-year parts, 1-year labor
The Buzz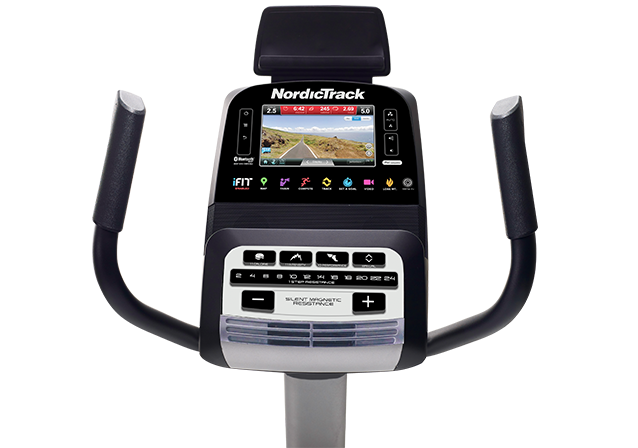 UPDATE:  As of 2018 the GX 4.6 Pro has been replaced by the new Commercial VU 19 upright.  It's very similar but has an upgraded console and a slightly larger footprint.  It retains the same low price tag however.
Modeled after a road bike, the GX 4.6 Pro's upright frame allows you to sit down or stand up while pedaling, just like you would do on the road. The oversized cushion seat is comfortable to sit on and can be adjusted up and down as well as forward and backward. You can find the optimum seating position irrespective of your height and build.
The 4.6 offers you plenty of choices in terms of workouts. There are 32 built-in training programs – 11 calorie workouts, 11 intensity workouts, and 10 performance workouts. Apart from this, you have the iFit option, which gives you access to a whole library of workout programs.
The iFit module allows you to replicate real life training routes from around the world using Google Maps. You can also customize your workout programs based on your goals and track your progress for faster results.
 There are 24 levels of resistance and the transition from one level to another is smooth, thanks to the Silent Magnetic Resistance system. You can use the OneTouch controls to adjust the resistance instantly any time you want.
 The machine has CardioGrip sensors in the handlebars for heart rate tracking. A wireless chest strap is also included, which is great as it is more accurate than grip sensors. You can monitor your pulse accurately and stay in the right zone to make the most out of your workouts.
The 7" touchscreen display is definitely one of the big selling points of the bike. You can access all kinds of workout data at the touch of a finger and browse the web during your workouts. It is a big improvement from the GX 4.4, which has a standard 5" backlit display.
The bike has all the bells and whistles you would expect from a NordicTrack product – built-in water bottle holder, tablet holder, transport wheels, and cooling fan. The extra-wide foot pedals are easy to slip your feet into and the straps provide additional stability during your workouts. 
Any drawbacks? The GX 4.6 has the same problem as the GX 4.4 – the lack of a heavy flywheel. The 19 lb. flywheel is perfectly fine for beginners, but not ideal for those who enjoy challenging workouts.
It is a bit of a surprise, as we expected a heavier flywheel in the upgraded version. However, if you are not likely to use the higher resistance levels, it might not make much of a difference to you.
Our Take on the GX 4.6 Pro Bike
NordicTrack has come up with yet another impressive bike in the form of the GX 4.6 Pro. It has a super smooth and silent resistance system, gives you plenty of options in terms of workout programs, and helps you track your workout progress for better results. The large touchscreen display with built-in browser is a huge upgrade and helps you break the monotony of your workouts.
The lack of a heavy flywheel is the only downside in an otherwise great exercise bike. It can be overlooked, however, considering the bike's low price tag and impressive features. If not, you have a slightly more expensive alternative available in the form of the GX 5.5 Sport.
It has a 48 lb flywheel and is ideal for heavy use. It is a trade-off, however, as it lacks the web-enabled touchscreen display, iFit connectivity, and other hi-tech features that the GX 4.6 Pro has.