The Diamondback 1260Ub - Brand New Upright Bike
The Diamondback Fitness 1260Ub Upright Bike is a great way to get a gym level workout in the comfort of your own home. As with all of the company's models it combines a full range of features with a sleek, modern look that lets it fit in in any home gym setting.
The 1260Ub includes a light commercial build, convenient step through design, 32 levels of magnetic resistance, 15 workout programs, Bluetooth audio speakers and a WATT enabled controllable trainer.
With all of these great features it is comfortable to use yet provides a challenging workout for users of all fitness levels.
There's plenty to love but let's take a closer look and see exactly what the 1260Ub offers in our review...
1260Ub - The Bike
As mentioned above, the 1260Ub has an unstrained riding position for maximum comfort and a wide range of features to help tailor your workout to let you reach your fitness goals.  
Here are some of the best features that it offers...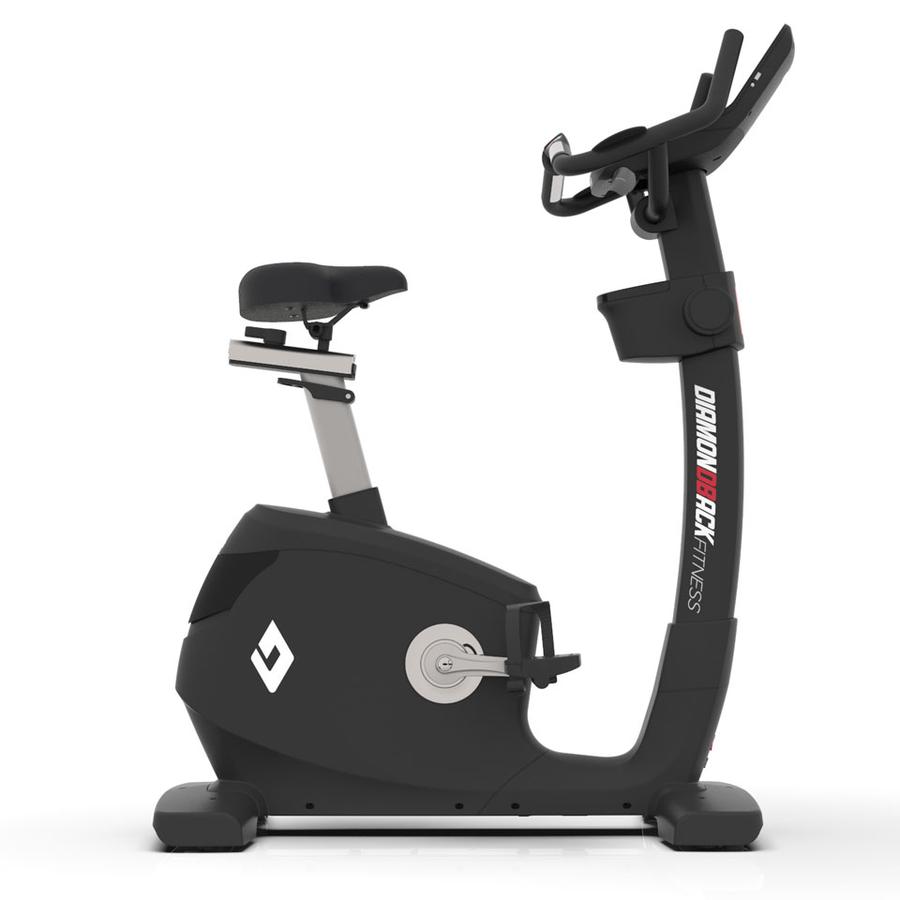 15 built in workouts

32 resistance levels
Contact/wireless heart rate
Bluetooth music + speakers
Industrial-Grade handlebars
Auto adjust resistance
Water bottle & tablet holder
User capacity: 350 lbs.
Dimensions/Weight: 48"L x 24"W x 61"H / 106 lbs
Warranty: Lifetime limited frame and brake, 3 yrs parts & electronics, 1-yr labor, 90 days wear items
Check out the new 1260Ub on Sale at the company store!

The Buzz
Getting a great bike workout has never been easier than it is with the Diamondback Fitness 1260Ub Upright Bike.  Not only is this new model, first introduced in 2020,  sleek and modern looking, with a wide seat and pedals and built-in elbow rests to maximize comfort, it even includes a unique step through design to allow for safe access. 
You can get to the pedals quickly and easily without lifting your leg over the bike and risking losing your balance, which makes this model safe for all users.
At the same time the 1260Ub includes a host of other features that let you get a challenging workout in the comfort of your own home.
Primary among these is the controllable trainer that automatically adjusts resistance levels so you can keep your focus on your workout instead of fumbling with manual controls. This is a big upgrade from the previous top-end Diamondback upright 910Ub, which is no longer available.
The trainer includes 15 preset workouts and 32 levels of resistance to challenge any level of user.
With intuitive technology the user-friendly LED console lets you keep track of all your stats including WATT output, time, distance, calories, RPM, load, speed and heart rate.  Because Diamondback understands how important it is to listen to your heart, they included an integrated Polar heart rate receiver in the 1260Ub. 
When combined with a Polar T31 or T34 wireless heart rate strap (not included), you'll have the most accurate tracking data to let you get the most out of your workout.  The 1260Ub even includes handlebar mounted heart rate touch sensors that let you take intermittent heart rate readings.
The 350 lb. maximum user weight, same as on the Diamondback 1260Sr recumbent,  makes this model comfortable for almost any user but the convenience doesn't stop there.  With the quick adjust handle, the seat easily slides forward or back to accommodate users of any height from 5'3" to 6'7".   At the same time, the LED panel stores stats for up to four user profiles, so every member of the family can keep on top of their workouts. 
Not only does the 1260Ub look good in your home gym, its whisper quiet, ultra smooth wheel won't bother the neighbors.  You'll be amazed at how quietly this bike works, which also makes it easier for you to watch TV or stream videos on your tablet while you workout.
A built in tablet holder keeps your electronic devices in a comfortable, easily accessible position so you can keep your hands on the bike.  The onboard speakers let you enjoy music from your iPad, iPhone, iPod or any other mp3 device and you can sync wireless through Bluetooth.  There's even a built-in USB charger so you can charge your tablet or phone while you workout.
The scrolling message center guides you through program set-up and lets you set adjustment levels with minimal effort.  The 15 built-in training programs include heart-rate controlled training, unlimited custom user programs, WATT, fitness test and several others.
All of this is available at a very competitive price that averages around $1400-$1500 or so when the Diamondback 1260Ub is on sale, making it a great buy.

How Does the 1260Ub Compare to the Competition?
When you look at it side-by-side with comparable bikes from NordicTrack, Horizon and Sole, the Diamondback Fitness 1260Ub definitely holds its own and presents more of a challenge than it did with previous uprights in the lineup.
Horizon
Horizon offers affordable yet comfortable upright bikes with plenty of features to make your workout experience complete.  Their Comfort U bike is on the low end of the price scale at just $599 but comes with quite a few attractive features. 
It includes a gel comfort seat with both horizontal and vertical adjustment as well as self-balancing pedals.  You can track your heart rate with sensors in the hand grips and with a polar wireless receiver that syncs to your chest strap or watch.
It isn't Bluetooth enabled but it does include a tablet rack and has a 5.5 in non-backlit LCD display. It comes with 10 built-in programs and allows you to keep track of your workout stats including calories, cardio, distance, speed, resistance and time.
Sole
Sole has two models of upright bike, the B94 and LCB.  Ranging from $799 to $1299, these bikes are solidly built and the B94 provides the smoothest and most quiet ride in its class.
Neither model offers the convenient step through design of the Diamondback bikes but they do each have a spacious gel seat along with handlebars and pedals designed with comfort in mind.
The B94 includes a 9" LCD display and Bluetooth integration that updates your favorite fitness apps in real time.  It comes with 10 pre-set programs as well as customizable programs that let you tailor your workout to fit your specific needs. 
The LCB has a 10.1" LCD display, Bluetooth capability, 6 pre-set programs and 40 levels of resistance as well as the ability to sync with your wireless chest strap for the most accurate heart rate measurement. Both models include an integrated tablet holder as well as built in Bluetooth speakers and USB charging port.
NordicTrack
As one of the most popular brands on the market, NordicTrack is generally ahead of the pack when it comes to features and this holds true for its upright models, the GX 4.4 and Commercial VU 19.  They're competitively priced, ranging from $699 to $899 and you get a surprising range of features for your money. 
The GX includes a 5" backlit display, two 2" digitally amplified speakers and 30 on-board workouts and is NordicTrack iFit membership ready. 
The VU 19 has a 7" smart HD color touchscreen, integrated pivoting tablet holder, two 2" Bluetooth compatible speakers.  It also has 32 on-board workouts and includes a 1 year NordicTrack iFit membership with purchase. 
Both models are made for comfort with an oversized cushion seat, extra-wide ergonomic foot pedals with adjustable strap and built-in AutoBreeze workout fan.  The VU 19 also has both vertical and horizontal seat adjustment to suit any size rider. 
You can keep track of your heart rate with the built-in grip pulse sensors and wireless chest strap included with both models.

Diamondback 1260Ub Review -Bottom Line
With lots of comfort features as well as a wide range of magnetic resistant workouts, the 1260Ub is the perfect choice for anyone from novices to serious cyclists. 
You can keep track of your heart rate as you workout and the controllable trainer automatically changes resistance levels to let you get the most out of your workout without having to make manual adjustments.
 It's smooth, sleek and surprisingly quiet and can be easily adjusted to fit every member of your family no matter their size.  For a comprehensive workout in the comfort of your own home, you can't do much better than the Diamondback Fitness 1260Ub Upright Bike.