The Diamondback 1260Sr - New Recumbent Exercise Bike
The Diamondback Fitness 1260Sr was newly introduced in 2020 and it ushered in a whole new era of home workout options for every member of your family. Its simple, modern design looks great in any home gym and the wide range of features have made it a great addition to Diamondback's tradition of award winning fitness equipment.

The price tag may be a bit steeper than other models but when you compare it side-by-side we think you'll like what the 1260sr has to offer.  It gives you all the benefits of a recumbent cycling workout, which can be much easier on people with back and joint issues, and gives you plenty of flexibility to adjust your workout to suit your needs.
With that in mind, let's see exactly what the 1260sr is all about...

1260Sr - The Bike
The 1260Sr is a traditional recumbent bike with plenty of cutting edge features to suit everyone from novices to more serious cyclists. 
Let's take a look at some of the most important specs...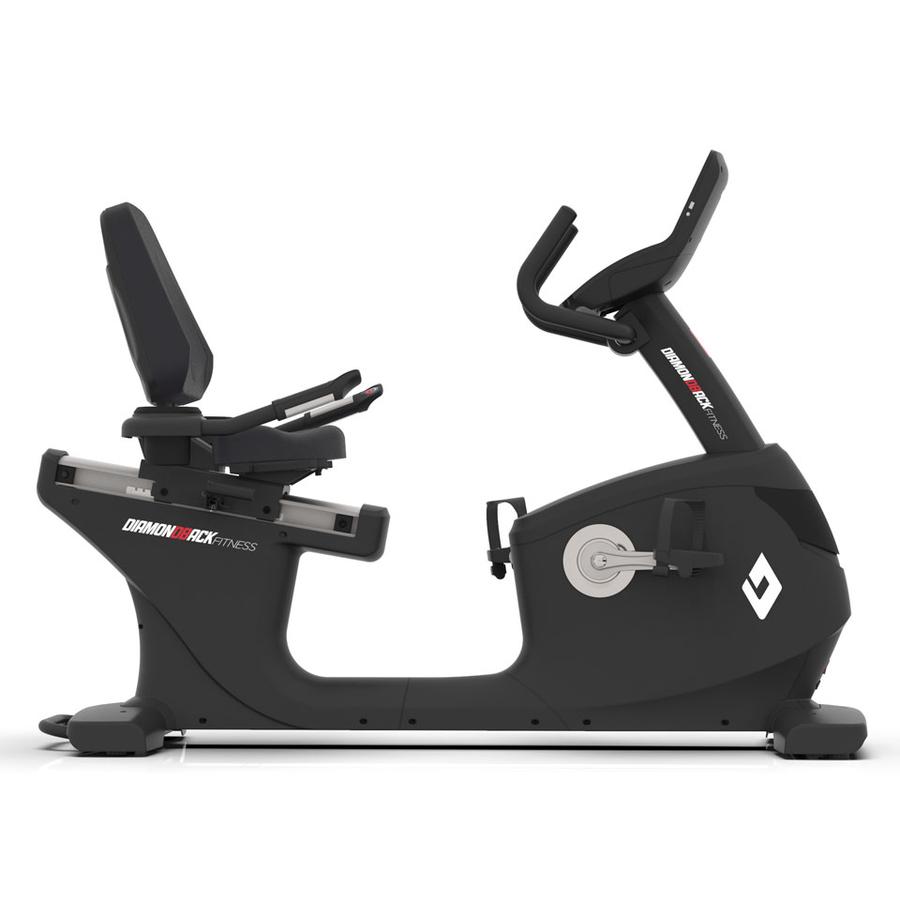 15 built in workouts

32 resistance levels
Contact/wireless heart rate
Bluetooth music + speakers
Industrial-Grade handlebars
Auto adjust resistance
Water bottle & tablet holder
User capacity: 350 lbs.
Dimensions/Weight: 67"L x 30"W x 48"H / 145 lbs
Warranty: Lifetime limited frame and brake, 3 yrs parts & electronics, 1-yr labor, 90 days wear items
Check out the 1260Sr recumbent on Sale at the company store!

The Buzz
The Diamondback Fitness 1260sr offers a great way to get a comprehensive workout without the strain that regular upright bikes can put on your back and joints.  The step through design and front handle bars make it safe to use without losing your balance.
The built-in smart trainer automatically adjusts resistance as you move through your workout, letting you get the most out of every second of your time without having to stop and manually adjust levels.  With 32 levels of resistance, same as on the upright Diamondback 1260Ub, you can customize your workout for serious interval training.
Setting up your program has never been easier with the user friendly LED console with scrolling message center.  Its easy to read display lets you set adjustment levels and select your program and the display shows your data throughout your workout.  Keep track of WATT output, time, distance, calories, RPM, load, speed and heart rate at a glance without disrupting your pace.
The 1260sr also features a built-in Polar wireless heart rate receiver that allows you to monitor your heart rate during your workout without the nuisance of holding onto a contact sensor.  With a matching Polar T31 or T34 heart rate strap (not included) you can automatically sync with the bike and keep track of your heart rate in one easy step.
The console also includes full BLE FTMS compatibility, letting you link to any Apple IOS or Android device so that you can use third party apps such as Zwift, Rouvy, Myzone or SPIVI.  A handy tablet holder lets you access the internet, check emails or watch videos and with the built-in USB charger you can even charge your tablet or phone while you workout.
The designers at Diamondback Fitness understand how important it is to be comfortable so they have included a lot of convenient features on the 1260sr including a one click resistance dial to let you select your resistance level quickly and easily and rear handlebar controls that let you increase or decrease resistance with the simple click of a button instead of using the console.
The 1260sr is also designed to be easily used by every member of your family.  The 15 built-in workout programs include 12 preset programs and unlimited custom user programs so that each user can tailor their workout to their own needs.  The quick release handle and adjustable pedal straps lets the bike easily adjust to accommodate riders from 5'3" to 6'7".
Though the retail price can seem a bit steep at around $1900, you can often find sales that bring it under $1,500 and special offers that make it much more affordable.
How Does the 1260Sr Compare to the Competition?
In the world of recumbent bikes there are many different options to choose from, but you'll want to do your homework before you make your final choice.  Here's what you can expect from similar bikes:
Horizon
 The Horizon Comfort R comes at an affordable $699 but at that price, as you might expect, it is a lot more basic with far fewer bells and whistles than other models.  It does feature a step-thru design for safety and comfort as well as an extra-large comfort seat with lumbar support. 
You can track your heart rate with built-in sensors in the hand grips and it features extras that include a reading rack, water bottle holder and built-in speakers.  It has a 5.5" in non-backlit LCD console and 12 built-in programs including fat burn, distance, training intervals and performance intervals.  You can track your workout feedback such as calories, distance, heart rate, resistance level, RPM, speed and time.
Sole
Sole's recumbent bikes, the R92 and LCR are loaded with features that make them the most comfortable recumbent bikes on the market, including large padded seats and built-in cooling fans.  From a technological standpoint they've got plenty going for them as well. 
The R92 has a bright, easy to read 9" LCD display with Bluetooth compatibility for instant syncing of your fitness data as well as an integrated tablet holder and multiple hook-ups for types of entertainment devices.  The LCR has a 10.1" LCD screen, Bluetooth and Wireless technology which syncs with fitness apps for real-time progress monitoring as well as a built-in tablet holder and multiple device hook-ups. 
Both models also feature a built-in USB charging port so you can charge your devices as you workout.  With prices ranging from $999 to $1499, they give you plenty of bang for your buck.
NordicTrack
 NordicTrack offers two recumbent models, the Commercial VR21 and Commercial VR25.  Both come with an oversized lumbar supported seat, AutoBreeze workout fan and extra wide ergonomic pedals with adjustable straps.  The VR25 also features a StepThru design for comfort and safety. 
At just $799 the VR21 offers a more basic technology package which includes a 5" backlit display, auxiliary music port and two 2" digitally amplified speakers.  It is NordicTrack iFit membership ready but membership cost is separate.  With the VR25 you get a 7" Smart HD Touchscreen that allows you to instantly stream an array of live workouts with the accompanying 1 year NordicTrack iFit membership included in its $1299 retail price. 
Both models are also designed to help you keep track of all your workout stats, including heart rate with a built-in EKG grip pulse monitor.  The VR25 also comes with an iFit Bluetooth Smart chest strap.

Diamondback 1260Sr Review -Bottom Line
If you're looking for a great way to get a workout without putting undue stress on your back and joints, a recumbent bike can be the perfect choice.
Among the many options on the market, the Diamondback Fitness 1260sr stands out from the pack with its award winning design, easy adjustability and custom programming to make it usable for every member of your family and wide range of high tech features including automatic resistance adjustment to give you a smooth workout without interruptions.
No matter what your exercise level, the 1260sr is easy to use, comfortable and full of all the features that make it a perfect choice for any home gym.