The SportsArt Fitness C532u Upright Cycle – Pricey, But Worth It
The state-of-the art SportsArt Fitness C532u Upright Cycle has features to enhance comfort to keep you motivated to ride longer and achieve your fitness goals faster.
The Bike
The LED and dot-matrix display show workout feedback for time, distance, speed, watts, calories, calories per hour, RPM, resistance level, heart rate, and 65% and 80% target heart rates. The pre-set Touch-n-Go workouts include 3 Hills programs, 2 Intervals, Plateau, Manual/Track, Cardio and Weight Loss heart rate control programs, and ZoneTrainer™ with a custom heart rate program. The display allows you to enter your age and weight to determine calorie burn rate.
The SportsArt Fitness C532u Upright Cycle features:
20 Levels Electromagnetic Resistance
24-lb Flywheel
10 Programs; 4 user IDs
Fore & Aft seat adjustment
Padded oversized seat
Multi-position handrails
Contact & Telemetry Heart Rate Monitoring
Power Supply: Self-Generating
Max User Weight: 400 lbs
Dimensions/Weight: 40"L x 22"W x 56"H / 121 lbs
Warranty: lifetime frame & mechanical parts, 7 years electronics, 1-year labor
The Buzz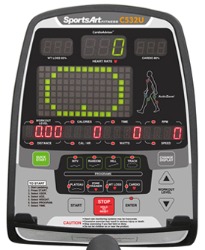 The SportsArt Fitness C532u Upright Cycle is a light commercial rated bike that can be used in either a home setting or in a non-fee commercial setting up to 6 hours max per day.
Along with a heavy flywheel and electromagnetic resistance, the SportsArt C532u upright exercise bike features a cordless self-generating power source (no plug-in required) with a two-minute battery backup. The seat adjusts up/down and fore/aft for proper knee alignment for different size users. You can also order an optional seat adaptor so you can attach your own bicycle seat on the post.
Other features of the SportsArt Fitness C532u include a low profile shroud for easy user mounting and dismounting, standard pedals with straps, multi-position handrails for a variety of grip options, a bookrack, and a water bottle holder.
SportsArt's CardioAdvisor illustrates your target heart rate for weight loss and cardio training, as well as tracks your heart rate during each session via the contact pulse grip sensors or telemetry heart rate monitoring. The ZoneTrainer™ feature can be accessed during any workout program; press the Zone Trainer key and the bike's resistance will automatically adjust to keep you in your current target heart rate zone.
Our Take
The SportsArt Fitness C532u Upright Cycle is also compatible with the optional Personal Viewing Screen Mount, which is designed to hold an LCD Flat Screen up to 19" in size.
Prices on the C532u range from $2,165 to $2,375 online depending on where you shop. Reviews on all SportsArt bikes have been favorable for ergonomic fit, durability, workmanship, and ease of use of the display. These are pricey bikes, but worth it.
With such an outstanding warranty, you should expect to pay over $2K for this kind of quality.
Show me other SportsArt Fitness Exercise Bikes