The SportsArt Fitness C521r Recumbent Cycle – Years of Reliable Cardio Workouts
The SportsArt Fitness C521r Recumbent Cycle is an easy-access and smooth pedaling bike that is comfortable for most any user ranging from the most physically fit to the very out-of-shape. If you are new to exercising, this bike also has a CardioAdvisor™ feature to help you reach your fitness goals.
The Bike
The tri-color dot-matrix with LED display has workout feedback on calories burned, time, distance, speed, RPM, resistance level, Watts, and heart rate (actual and target).
The Touch-n-go programs include Interval, Custom Interval, Hills, Manual/Track, Random, Cardio HRC, Weight Loss HRC, and ZoneTrainer™ custom heart rate program.
The SportsArt Fitness C521r Recumbent Cycle features: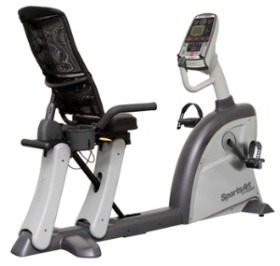 20 Levels Electromagnetic Resistance
24-lb Flywheel
9 Programs; 4 user IDs
Lumbar pouch & Mesh Seat Back
Adjustable Seat
Telemetry Heart Rate Monitoring
Power Supply: Self-Generating
Max User Weight: 400 lbs
Dimensions/Weight: 66"L x 26"W x 51"H / 156 lbs
Warranty: lifetime frame,10 years parts, 5 years electronics, 1-year labor
The Buzz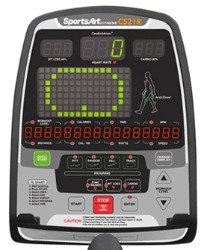 Reviews on the SportsArt Fitness C521r Recumbent Cycle cite the superior warranty, quality components, and attractive console as the best reasons to go with this model. It has an easy mounting step-through frame, standard pedals with straps, 20 levels of electromagnetic resistance, a smooth 24-lb flywheel, a water bottle holder, and a bookrack.
The contour seat has a mesh seat back to provide cooling airflow on the user. It also features a lumbar pocket that can be used for a hot or a cold pack applied to the back during a workout. The seat can be easily adjusted with the automatic gas spring that moves the seat into place on the rail.
Telemetry heart rate monitoring and the personal CardioAdvisor™ feature on the display gives you accurate feedback during workouts and works with both cardio conditioning goals and weight loss goals. As an added bonus, SportsArt Fitness will give you a free wireless heart rate monitoring strap when turn in your warranty card or register online with SportsArt.
The cordless self-powered display means you can set-up the C521r Recumbent Cycle anywhere since no plug-in is necessary. You simply get on the bike and start pedaling, and the display lights up. If you need to pause in the workout, a back-up battery keeps the display lit and your current workout information remaining active for two minutes.
Our Take
The SportsArt Fitness C521r Recumbent Cycle at $2,299 is an excellent model with a solid warranty program. (We feel that this C521r is a better deal than the C532r model that costs $300 more.)
However, these SportsArt models are up against some heavy competition from bike manufacturers that have like-models priced under $2,000, as well as remanufactured Star Trac and Life Fitness commercial recumbents that sell for a very enticing $1,800 to $2,500.
The drawback to those machines is that most don't have the step-through frame for easy mounting. There's no question that the SportsArt will give you years of reliable cardio workouts to help you get fit, and you will get the best warranty by buying this model versus going with a remanufactured recumbent with a limited 90-day warranty.
Show me other SportsArt Fitness Exercise Bikes