Slim Cycle Review - Is This Low Cost Bike Worth Buying?
The Slim Cycle by Bulbhead is the quick and easy exercise bike that you might have seen advertised on TV. It is designed to give you a great workout in the comfort of your own home without costing a fortune. Combining all the cardio benefits of a standard stationary bike with arm resistance to help you sculpt lean muscle mass, the Slim Cycle lets you get two times the results in half the time.
Read on below to find out exactly what the Slim Cycle bike has to offer and where you can find one to add to your home gym.
The Bike - What You Get
The Slim Cycle Bike features a unique, 2 in 1 design with both upright and recumbent positions, plush 2.5" foam seat with memory foam backrest, handlebars with built-in heart monitor, foot pedals with safety straps and a frame that folds for convenient storage. 
Here are some of the most appealing specs…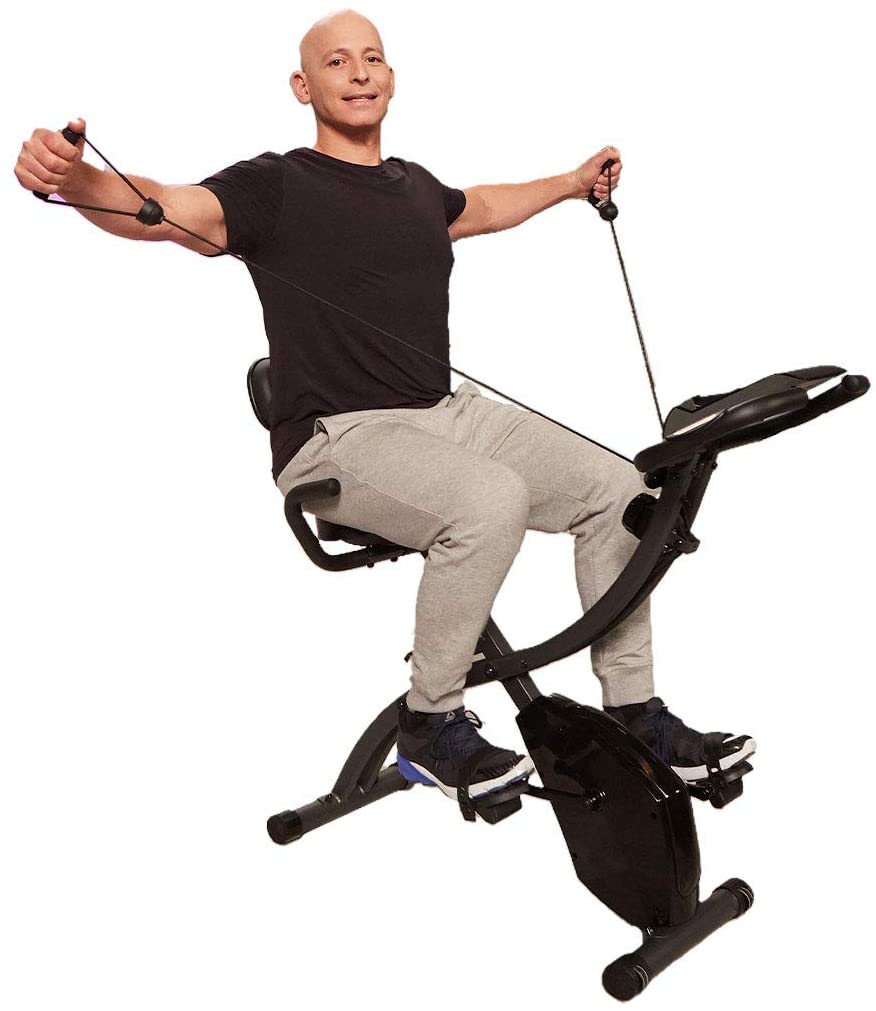 Easy to Read Digital Display

Built-in resistance armbands

8 levels of magnetic resistance

Downloadable app with 10 free classes

Large opening makes it easy to get on and off

Dimensions when opened: 42" H x 21.5" W x 43" L; when closed: 52" H x 21.5" W x 22" L

Machine Capacity: 300 lbs

Folds up like an ironing board for easy storage with wheels for easy movement

The Buzz
There is a lot to like about the Slim Cycle exercise bike, starting with its convenience. As noted above, it folds up for easy storage so you can enjoy the benefits of a bike workout without taking up a lot of space. That's a big plus for anyone who doesn't like the idea of having big, bulky exercise equipment in their home.
The ability to workout both lower and upper body on one machine is another big plus. This is something that most standard exercise bikes simply can't match as most are geared toward working the lower body only. Having the added built-in resistance armbands makes it easy to add strength training to sculpt upper body muscles for a great fully body workout. 
Also, with both upright and recumbent positions, the Slim Cycle provides a full workout for everyone. The recumbent position is perfect for people with joint issues as it's low impact, so you can get a good workout without putting undo stress on knees, hips and back. For those who really want to get their heart pumping, simply adjust to the upright position for an intense cardio workout.
With the simple turn of a knob, you can add more resistance to up the difficulty of your workout. There are 8 different levels of magnetic resistance to choose from and switching from one to another is as easy as turning the built-in dial. The transition is smooth, so you can go from one level to another without disrupting your ride.
The large, easy to read digital display helps you keep track of all your stats, including calories burned, distance, speed and the number of miles you rode.  Additionally, you can keep track of your progress by monitoring your heart rate with hand pulse sensors built in to the handlebars.
Along with the two cycling positions, built in resistance and digital display, the Slim Cycle Bike also features a comfortable, 2.5" memory foam seat with backrest for additional support and is designed to fold up and wheel away for easy storage. That makes it perfect for any size room and allows you to put it away after each use if you don't have a dedicated home gym space. It's also completely silent, so it can be used without disrupting anyone else in your home and will let you enjoy your favorite music or TV show while working out.
Obviously, one of the biggest pros of the Slim Cycle is the price. At just $200, it is far more affordable than most bikes on the market today, which makes it attractive to anyone on a tight budget. Order it directly from Bulbhead or from a number of different retailers including Amazon, Walmart, Kohl's or QVC, and you'll also get 10 complimentary virtual rides that you can download for free to your smartphone or tablet using the designated app.
Of course, no product is without its flaws and the Slim Cycle exercise bike is no exception.
While it is intended to be easy to fold and store for convenience, the Slim Cycle comes unassembled and putting it together can be a headache. It takes several hours to assemble all of the pieces if you carefully follow the instructions. Some retailers like Amazon include professional assembly service for an extra $90, which may be worth the investment if you're unsure about doing it yourself.
There are several features of the Bulbhead Slim Cycle that are intended to make it comfortable for users of all sizes. It is advertized to hold up to 300 pounds and adjusts to accommodate users from 4'11" to 6'4" and also has a large opening that makes it easy to get on and off comfortably. That being said, the narrow 21.5" footprint can make it a bit unstable and even with the seat adjustment it isn't really very comfortable for taller users.
Not surprisingly, for a bike that is this affordable it is also doesn't have the best quality  construction, which means it is prone to breaking easily, especially with regular heavy use. 
Bottom Line on the Slim Cycle Bike
If you're looking for an affordable way of getting a good full-body workout, there is plenty to recommend the Slim Cycle, but it's important to keep your expectations realistic.
This is a low cost bike, so it isn't the sturdiest piece of equipment and may not hold up well to regular use. Whether this is the right bike for you may depend on whether you prefer convenience, easy storage and affordability or if you are more interested in getting a heavy duty workout.
If the intensity and variety of your workouts is your primary concern, you'll probably want to opt for more expensive models with more features from popular brands like NordicTrack, ProForm and others.
For the casual user who just needs to get moving and lose a few pounds and doesn't want a big piece of equipment cluttering up their home, then the Slim Cycle should fit your needs nicely.
Check out more bike info and special sale pricing here!