What are the Top Exercise Bike Benefits?
When making a list of exercise bike benefits, you should include advantages such as ease of use, safety, convenience, and affordability especially when compared to a treadmill or elliptical trainer.
So ask yourself, is it time to buy an indoor stationary bike so you can skip the excuses and get your cardio work done?
Variety, Convenience and Low Cost
The benefits of working out regularly on an indoor exercise bike are numerous. Starting with cardiovascular conditioning, the workout will elevate your heart and breathing rates for a life-enhancing cardio session of just 20-30 minutes a day, three times a week. Cycling also helps burn calories, lowers blood pressure, relieves stress, and provides a host of other physical and mental benefits.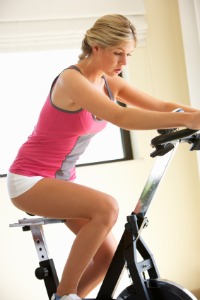 One of the main benefits of home exercise bikes is the convenience of being able to ride anytime. With a bike's small footprint, you can pedal in front of the TV and catch your favorite show, or grab a good half hour exercise session while the baby sleeps.
The new magnetic flywheel bikes are super smooth to pedal and nearly silent – much more quiet than a treadmill or elliptical trainer. You can set your own workout schedule of 10 minutes, or an hour, or ride several times a day.
Another exercise bike benefit is the ease of use. There really is no mystery to riding a stationary bike; you just get on and pedal. And with a number of different bike frames available, including recumbents, uprights, and spin bikes, you will find one that fits your style.
Of course, the main advantage to indoor bikes is the relatively low cost. When you compare prices to other cardio machines such as treadmills, ellipticals, rowers, and stair steppers, stationary bikes are the best-built and most affordable choice. Since they don't require a motor or an incline mechanism, the exercise bike has fewer components, hence, the lower cost.
Lastly, since bike riding is not a "weight-bearing exercise," — that is, you don't have to support a load (your body) while exercising — it is one of the easiest exercises to do that won't stress the knees, hips, and ankles with weight.
The Best Choice for You
So there it is - the exercise bike benefits are incredible: the best low price of any cardio machine, simple to use, small footprint, convenient, super quiet, smooth operation, and different styles to choose from.
From cardio conditioning to less stress on the joints, the indoor bike is a fun and easy way to enjoy daily workouts in the comfort of your own home.