Matrix Cycle ICR50 - Next Level Studio Experience
The latest offering from Matrix is the only cycling bike in their current lineup. The Matrix Cycle ICR50 joins their two upright and two recumbent models to round out the options, bringing a high-end gym experience to the comfort of your own home.
Until the last few years, Matrix had focused primarily on the commercial market, with their equipment being found in fitness clubs, hotels, universities and sports facilities around the world. 
With their latest offerings, they have now expanded into the home exercise market while retaining all of the high-end features you would expect from the Matrix name. Not surprisingly, the reviews have been impressive, which is why we were excited to see how the Matrix Cycle ICR50 measures up. 
The Bike
The Matrix Cycle ICR50 provides a real studio ride with advanced ergonomics and precision design that let you take your workout to the next level. Bluetooth accessibility, precision resistance and a protected, rear-mounted flywheel all make this one of the most advanced cycling options possible.
Let's take a look at some of the most important features...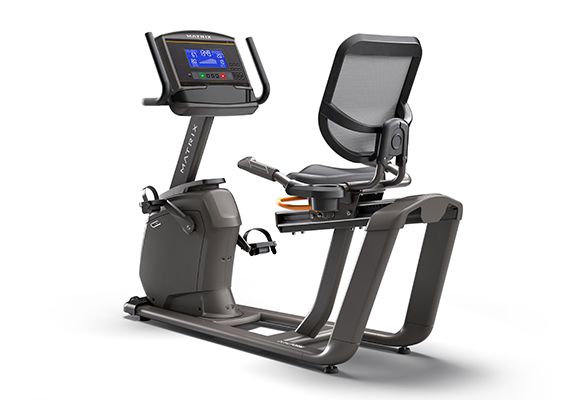 22" HD non-touch display

Rear mounted flywheel

6.3" Q-Factor

Dual-sided pedals with SPD and toe cage

Indoor cycle frame

Vertical and horizontal seat adjustment

11 positions of Magnetic resistance with quick-adjust lever

Ergo-formed, multi-position, soft PVC handlebars

Water bottle holder

 

User weight capacity: 136 kg/300 lbs.

 

User height range: 155-195 cm/5'-6'4"

Dimensions/Weight: 55.75" x 22.25" x 49" / 114 lbs

Warranty: 5 years frame, 3 yrs parts, 1-yr labor
Check out the R30 recumbent on sale now at the Matrix store!
The Buzz

The Matrix Cycle ICR50 offers three different display options that allow you to tailor your workout to your individual needs. You can opt for no console, which keeps it simple while still offering Bluetooth connectivity that lets you access your favorite apps or wireless heart-rate monitor and has an integrated device holder for your smartphone or tablet.
Choose the LCD console and you'll have the ability to track time, distance, calories, heart rate, RPMs and speed. The sleek LCD display includes HIIT, speed interval and heart rate interval training programs and it is compatible with wireless heart rate technology.
For the ultimate workout experience, you can opt for the 22" IX Display which allows you to mirror your smartphone, tablet or digital media player so you can stream live and on-demand classes, enjoy the real life feel of virtual courses or simply watch Netflix, Prime, YouTube or any other entertainment app while you train.
Integrated speakers provide crystal-clear audio for a truly immersive experience that takes the boredom out of your workout. The IX Display mounts easily and includes pivoting brackets that allow you to adjust for a comfortable viewing angle.
The rear mounted flywheel offers maximum protection for the mechanics of the cycle, shielding critical components from sweat and reducing maintenance needs, while providing a solid feel and whisper-quiet performance. 
With lubrication-free magnetic resistance, The Matrix Cycle ICR50 allows for smooth performance. You can change between the 11 levels of resistance quickly and easily with the handy front-mounted resistance lever, so your workout isn't disrupted.
The 159mm Q factor is designed to maximize performance by optimizing the position of the hips, knees and feet while the dual-sided pedals ensure comfort with SPD clips for cycling shoes with SPD cleats and adjustable toe cages with straps for sneakers.
Both the padded sport saddle seat and the ergo-formed, soft PVC handlebars can be easily adjusted vertically and horizontally to comfortably accommodate users from 5'-6'4". 
Like the upright and recumbent models, the Matrix Cycle ICR50 is a higher-end bike with the top flight features you'd expect in commercial equipment and that means it carries a higher price tag, which is its biggest drawback.
Prices vary depending on your choice of console, with the regular retail price ranging from $1,799 for the no console option to as much as $2,298 for the IX display, though Matrix regularly has special offers that can bring the price down a bit.
However, at the sale price of $1,199 to $1,399 the ICR50 is a great choice for the home gym.
Is the New Matrix Cycle ICR50 Worth Buying?
Because it is much higher in price than many of the other options on the market, it is worth considering whether it lives up to that extra expense before you decide to spend. There are certainly other high-end and mid-level bikes that provide a comfortable workout with plenty of extra features, but none have quite the look and feel of the Matrix Cycle ICR50.
We were impressed with the smooth ride and the easy adjustability, particularly the instant resistance adjustment. The front mounted resistance lever is a nice touch, making it so simple to add or reduce resistance on the fly.
The addition of the IX display is also a nice touch, allowing for a truly immersive workout experience. Whether you're participating in a class, riding a real-world course or just enjoying your favorite movie or TV show, having the nice big screen and excellent audio quality from the built-in speakers makes a huge difference.
While there are obviously other cycling bikes on the market that provide a good workout, we feel that the Matrix Cycle ICR50 is definitely worth considering, especially for experienced cyclists who want that real road cycling feel.
How Does The Matrix Cycle ICR50 Stand Up To The Competition?
Most of the major fitness equipment companies are now offering indoor cycling bikes so there are more options than ever to choose from.  Names like Life Fitness, Peloton, NordicTrack and others have options that range in price and provide a number of different features while giving you the real riding experience that you crave.
Unlike most of the other brands, Matrix currently only has the one indoor cycling model. Life Fitness and NordicTrack both feature several different models, with Life Fitness offering an astonishing six different options, beginning at an affordable $999 and moving up in price with variations in features as you move up through the line.
Both NordicTrack and ProForm offer 22" HD displays, and unlike the Matrix Cycle ICR50 their displays are actually touch screens, which some people might feel gives them a leg up in comfort. Since they are made by the same parent company, they also both offer an iFit membership with their bikes, something that Matrix currently does as well.
Peloton has made a name for itself with its own app, which provides classes and professional level trainers that Matrix doesn't have. Currently, Peloton has two models available, which feature either a 21.5" or 23.8" HD touchscreen. Like the Matrix Cycle ICR50 you can tilt the screen for more comfortable viewing. Unlike most other brands, Peloton's Bike+ also allows you to rotate the screen 360 degrees so that you can participate in their off-bike yoga and strength classes.
While Precor currently offers several affordable upright and recumbent models, they have yet to include an indoor cycling model.
The two areas where Matrix truly stands out from the competition are their unique three console options, allowing you to choose either no console, the LCD console or the 22" IX Display and the rear mounted flywheel that provides a smooth, quiet ride while shielding the components from sweat.
Bottom Line on the Matrix Cycle ICR50
While the hefty price tag may be a turn off for some people, there is a reason that Matrix is the brand of choice for so many commercial gyms and clubs around the globe. They have earned a reputation for quality with top notch equipment that features the latest technology. At the same time, they don't skimp on mechanics, offering a smooth, natural and quiet ride that is as close to a real road cycling experience as you can get on an indoor bike.
We were particularly impressed with the choice of console that not only allows some flexibility in price but also gives you a wide range of options for customizing your workout. You can easily track your stats on the LCD console or lose yourself in your ultimate workout experience with the incredible quality of the 22" IX Display.
The price is probably a bit more than the casual user would want to spend but for serious cycling enthusiasts who want to get the most out of their workout, it's well worth the investment, especially if you can wait for one of the regular special offers that can take a considerable amount off the retail price.
All in all, we found that the Matrix Cycle ICR50 delivered on everything it promised, with a smooth ride that gives you everything you'd expect from a commercial grade bike in the comfort of your own home.
Get more info and special sale prices on this exercise bike here!