Exercise Bike vs. Real Bike – Pros & Cons
The argument of the exercise bike vs. a real bike is an interesting debate since the former is designed to try to simulate the latter as much as possible.
The indoor stationary bike is smooth, virtually quiet, and can be ridden anytime day or night no matter what the weather is outside. It can provide an excellent workout, almost as good as road riding. So what other differences are there between the two?
The Advantages of the Exercise Bike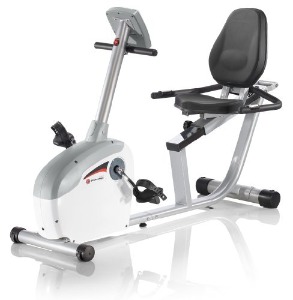 Safety and convenience are the top pros of an exercise bike vs. a real bike. You can pedal for miles and hours indoors and never worry about traffic, stop signs, crowded sidewalks, dogs chasing you, pot holes, wind, or inclement weather.
You can spin higher RPMs, going faster while staying in place, and not have to worry about running out of road after a minute or two. Not only can you control speed and cadence, you can dial up resistance for simulated hill climbing, using both seating and standing stances.
Compare Prices of Popular Exercise Bikes On Sale at Amazon
The Advantages of the Real Bike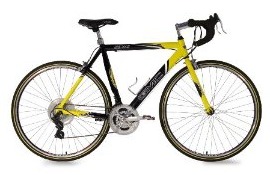 There's no question that life is more interesting outdoors. You have the pleasure of constantly changing scenery to look at so you seldom get bored. A real bike will be a better workout than pedaling on an exercise bike since natural wind resistance and the uneven road gives your structural muscles a better workout as you unconsciously work to keep your balance while riding.
Another advantage of the real bike vs. an exercise bike is that a real bike does double-duty; you can use it for transportation as well as exercise. Ride your bike to work or pick up a few items at the store.
If you already own a bike, but are weighing the pros and cons of getting an exercise bike for winter months or for the convenience of indoor training, you may be considering the option of rollers or a trainer stand to attach your own bike to.
Roller styles put both bike wheels on dual rollers requiring a lot of skill and balance from the rider while providing a realistic riding experience (tip: ride in a doorway). You can also get a stand that mounts to the front fork with the front wheel removed, and the rear wheel sits on the rollers.
The advantage here is that rollers are much less expensive than an exercise bike or a trainer.
Go for the Convenience
If you opt for the bike trainer, you will miss out on the advantages of a quality indoor exercise bike that offers smooth, silent riding with precise adjustments for the handlebars and saddle.
A real bike, however, will have to be cleaned of dirt and mud each and every time you bring it into the house.
While it remains a personal choice of convenience and training habits, the question of an exercise bike vs. a real bike can also include an easy answer for the avid biker: if you love riding that much — get both.
This arrangement will be a guilty pleasure that will keep your road bike handy in the garage (and not on a stand in the basement!), and a convenient stationary bike set up and always ready in your home gym.
---