The Star Trac E-RBe Recumbent Bike – Top-of-the-Line Home Model
The 15" HD touch screen interactive display on the Star Trac E-RBe recumbent bike allows the user to plug in an iPod or connectivity with music and videos. This state-of-the-art entertainment system is the top-of-the-line in home recumbent models.
The Bike
The Star Trac E-RBe recumbent bike console can charge your media devices in the USB charging station while you workout. The screen shows your workout time, heart rate, calories burned, calories/hour, watts, distance, RPMs, and speed. It also has a course profile and ¼-mile motivational track.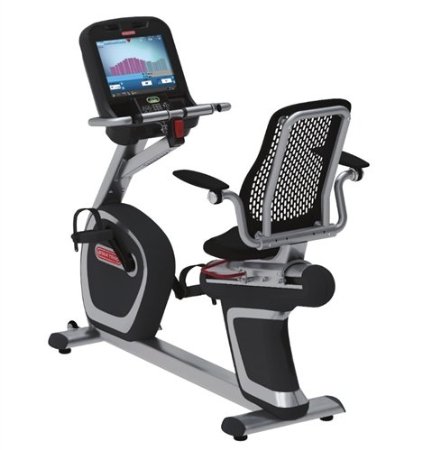 The bike features: 
15" Touch Screen LCD entertainment system
USB power port
iPod® connector
20 levels of Resistance
Dual-platform pedals with skate-style straps
Polar® telemetry and Heart Rate Contact Grips
Personal cooling fans
User weight capacity: 350 lbs
Dimensions/Weight: 66"L x 28"W x 52"H / 189 lbs
Warranty: 10 year frame, 2 year parts, 1 year labor 
The Buzz
The Star Trac E-RBe recumbent bike has a custom aluminum frame, one-piece crank with sealed bearings, and dual-sided pedals with strap and skate-style clips.
The walk-through design allows for easy on/off, and other standard features include personal cooling fans, an adjustable reading station, armrests, wrap-around seat adjustment, and wireless heart rate control. There are heart rate pulse sensors in the handlebars as well.
Check out the Star Trac E-RBe Bike on Sale Now at Amazon
With 20 levels of smooth resistance and 15 programs, you will enjoy hours of low-impact cardio exercise on the Star Trac E-RBe recumbent.
The pre-programmed workouts feature Dynamic and Constant heart rate control, quick start, manual, Watts, Auto Pilot, Fitness Test (Modified Astrand-Rhyming Test), and three custom workouts.
The 15" high definition touch screen display has iPod® connectivity to watch or listen to media content. The entertainment system features a NTSC/ATSC/QAM digital tuner or PAL/SECAM tuner, integrated iPod® connector, USB power port, and a coaxial cable connector at the base. Channel and volume controls are intuitively placed on the touch screen display.
Our Take on the Star Trac E-RBe Bike
There aren't many exercise bike reviews on the E-RBe since most users aren't crazy about paying so much money for a recumbent. But you should note that the Star Trac E-RBe recumbent bike is one of the longest recumbent models at 66" and the heaviest, so expect the ride to be very stable, with a pedaling motion that is smooth and quiet.
The Star Trac E-RBe carries a big $4,999 price tag (MSRP: $5,795), which is a lot even for a commercial recumbent bike, yet this one is sold for home use. For a more affordable alternative, check out the Life Fitness LifeCycle Platinum Club Series Achieve Recumbent, which also has a 15" LCD touch screen, for around $3,400.
Show me other Star Trac Exercise Bikes