The Precor RBK 815 Commercial Series Recumbent Exercise Bike – A Smart Choice
The Precor RBK 815 Commercial Series recumbent exercise bike gives the user a high-performance, low-impact workout while riding one of the most comfortable recumbents in the industry.
The Bike
The Precor RBK 815 Commercial Series recumbent exercise bike comes equipped with Precor's familiar LCD console and layout with easy-to-read windows for time elapsed, time remaining, percent remaining, distance, speed, resistance, RPM, calories burned, and more.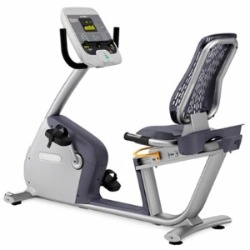 The bike features:
25 Resistance Levels
6 Programs
Patented Air Flex Seat
Adjustable Seat: 11 positions
Dual-side pedals
Touch HR sensors + Polar® compatible
Eddy current resistance system
Dimensions/Weight: 67"L x 23"W x 49"H / 210 lbs
Warranty: lifetime frame & welds, 5 years parts & wear items, 1-year labor
The Buzz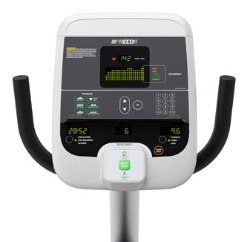 UPDATE: As of 2017 the RBK 815 and its sister upright bike, the UBK 815 are no longer available.  Only the 615 and 835 series remain.  Read the reviews of the latest Precor models here.

The Precor RBK 815 Commercial Series recumbent exercise bike is easy to mount and dismount thanks to the 14-inch step-through design and a low 4-inch step-over height.
The Knee Over Pedal Spindle (KOPS) Biomechanics puts the seat forward for the most efficient pedaling position. With the forward knee directly over the ball of the foot resting on the pedal spindle (when the pedals are in a horizontal position), this reduces the shear force on the knee making a cycling workout more comfortable. The dual-sided, extra-wide pedals can be used with or without the integrated straps.
Precor's SmartRate® Heart Rate system lets you maximize your workout results with touch and telemetry HR monitoring. Simply enter your age and weight, and the computer will display your heart rate using either the handgrips or a wireless chest strap, and will help you stay in a cardio, fat burn, or peak target zone during a programmed workout. 
The custom air flex seat has a ventilated back panel as well as a specially designed suspension system for a ride that is both cool and cushioned, and provides weight redistribution for sensitive areas. The seat slides back or forward and locks in any of 11 different positions, and can be adjusted while you are seated on the bike.
Our Take
The self-powered Precor RBK 815 Commercial Series recumbent exercise bike requires no power source to operate the display console.
It has a two-stage drive belt system that is very quiet and smooth, ideal for home use or in any public or corporate fitness facility. With 6 pre-set workouts and 25 resistance levels, the RBK 815 will provide years of consistent, low-maintenance, worry-free workouts.
While $3,395 is a lot to pay for a recumbent exercise bike, this gorgeous model is perfect for luxury homes with high-end cardio equipment. If you need a companion piece for your Precor treadmill, elliptical or AMT, the Precor RBK 815 is a smart choice.
See the latest exercise bikes and get special sale pricing here