Livestrong Ls28ic Indoor Cycle
The Livestrong LS28IC Indoor Cycle – Train Indoors Like Lance
Only 500 units of the Limited Edition Livestrong LS28IC Indoor Cycle will be available, and the first 150 orders will include an autographed picture of pro cyclist Lance Armstrong.
The Bike
The 3" x 2" wireless display shows heart rate, time, distance, calories, and RPMs. The Livestrong LS28IC features: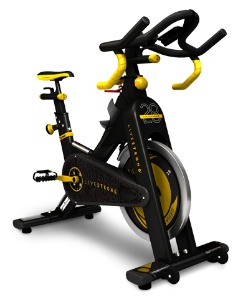 40-lb Flywheel
Multi-ribbon Drive Belt
Adjustable drop handlebar
Full seat adjustment
Dimensions: 47.2"L x 21.2"W x 40.9"H
Warranty: 10 yrs frame, 3 yrs parts, 2 yrs wear items, 1-yr saddle, 1-yr labor
The Buzz
UPDATE:  Johnson Health & Fitness has discontinued the LiveStrong brand. For a comparable model check out the latest Horizon & Vision exercise bikes at the official company store.
With a distinctive high-gloss obsidian black steel frame and bold yellow accents, the Livestrong LS28IC Indoor Cycle features a commercial grade 40-lb. flywheel and a multi-ribbon drive system.
It also features a premium aluminum seat, yellow wrapped grips, fully adjustable handlebar, and dual-sided SPD pedals with toe clips.
Recently, after Lance broke his collarbone, he began training just a few days later indoors on a Livestrong cycle. In his online video exercise bike review, he says, "I found the bike to be of the highest quality, to be smooth, to be efficient, lots of adjustments which I think is important for a bike to have that you're putting into an environment where people need to change things quite frequently. Overall, I think the Livestrong LS28IC is the best bike out there."

Our Take
Released in January 2011, the Livestrong LS28IC Indoor Cycle sells for just $1,699 and ships free. Each purchase includes a $1,000 donation to the LIVESTRONG Foundation in the fight against cancer.
Included on the seat post is a 7-star decal to commemorate Lance Armstrong's record-breaking seven Tour de France wins. If you want to train indoors just like Lance, this is an outstanding cycle for you.
Show me other Livestrong Exercise Bikes