The Life Fitness LifeCycle 9500HR Recumbent Exercise Bike – Buy It Refurbished and Save $$
The distinguished Life Fitness LifeCycle 9500HR recumbent exercise bike helped to set the standard on which all other commercial health club bikes are based. Though it is now discontinued, you can buy this bike today as a refurbished model.
The Bike
The Life Fitness LifeCycle 9500HR has a large LED display showing elapsed time, distance, calories burned, pedal RPM, watts, METs, heart rate, and more. It also has a 16-character scrolling message center. The programs include Interactive Heart Rate Zone Training workouts, Fat Burn, Cardio Fit Test, Hill, Random, and Manual. You also get on-the-fly programming to change workouts without restarting the information.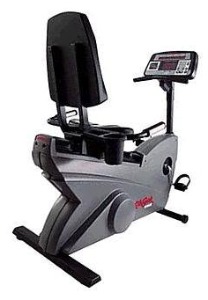 The recumbent exercise bike features:
20 levels of Resistance
Digital heart rate monitoring
Polar® wireless chest strap
Ergonomic Seat
Self-powered
Max User capacity: 400 lbs
Dimensions/Weight: 56"L x 25"W x 48"H / 127 lbs
Refurbished Warranty: 90 days to 1-year parts
The Buzz
UPDATE:  The 9500Hr recumbent bike is no longer available.  Check out the new model Life Fitness exercise bikes for comparable ones to choose from.
The Life Fitness LifeCycle 9500HR recumbent exercise bike features the patented LifePulse Digital heart rate monitoring system to work seamlessly with the contact grips on the handlebars or a wireless polar telemetric chest strap. It has an ergonomic seat with a supporting back rest, a self-powered console that doesn't need to plug into an outlet, and a smooth drive system.

As a refurbished model, the Life Fitness LifeCycle 9500HR is a good choice for a home exercise machine. A refurbished or remanufactured bike will be disassembled and rebuilt from the frame up by a certified bike technician who will replace any worn parts or faulty electronics.
Other than cosmetic blemishes, this commercial class bike will look and perform as good as the first day it was installed in a health club. Warranties on reconditioned exercise bikes run from 90 days to 1 year on parts, depending on the dealer you buy from.
Our Take
LifeCycles are among the most comfortable recumbents in the world, which is why you find them in many health clubs and fitness facilities. The Life Fitness LifeCycle 9500HR recumbent exercise bike offers longevity and comfort, and is well-suited to a multi-user household where it will be ridden daily.
You can find this discontinued model as a refurbished bike for about $1100 to $1700. If you can't find one, check out the new Life Fitness R1 recumbent, a residential model that sells for $1399 to $1699 with either a basic or advanced console.
Show me other Life Fitness Exercise Bikes