Fitnex B50 Upright Exercise Bike – Whisper Quiet Performance
The Fitnex B50 upright exercise bike lists for $1200 retail but is currently offered for an exceptionally low price of just $650, although it may be difficult to find. With newer versions available such as the Fitnex B70, the B50 is a bargain that probably won't be around much longer.
The Bike
The Matrix/LED readouts on the chunky console gives you several read-outs to help you track your progress, including workout level watts of power generated, pulse rate, speed, METs (metabolic equivalent) and calories used. Sixteen levels of resistance give you plenty of variety.

The Fitnex B50 upright exercise bike features: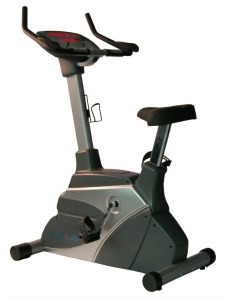 16 levels of Resistance
250 watts of torque
Console works on 3 AA batteries
Oversized console display
8 pre-set programs, including heart rate, random, interval, rolling, fat burning and more
Contact heart rate grips on handlebars
Adjustable, cushioned seat with ergonomic design with vertical adjustment
Self-leveling pedals with straps
Max User capacity: 300 lbs.
Dimensions/Weight: 42"L x 23"W x 55"H; 117 lbs.
Warranty: lifetime on frame, 5 years on parts (in-home use only), 1 year labor
The Buzz
UPDATE: The B50 has been discontinued and replaced by the new and improved B70 Upright Bike.  Read our review to find out more about this model.
The Fitnex B50 upright exercise bike has been a mid-range favorite for users familiar with the brand for years. It's usually on sale for somewhere between $625 and $900, putting it within reach for many users who couldn't otherwise afford the whisper quiet performance and impressive stability.
Like the company's more expensive exercise bikes, this one is constructed from quality parts and is easy to assemble.
Reviews note that the Fitnex B50 actually has a battery-operated console that displays all the workout information you need. On the B70, you have to keep pedalling in order to see the display, but here you can get all the information you need no matter how slow you're pedalling.
Some reviews like the battery operated console because it's reliable and you don't have to plug the machine in to use it. Others felt that an actual plug-in power source would have been nice.
Our Take on the B50 Bike
This is an excellent machine for home users, but it doesn't quite reach the "light commercial" grade of some other exercise bikes in the Fitnex stable. The warranty is very good, with lifetime on the frame, five years on parts and one year on labor.
It isn't as good as some recent bikes that have ten year or lifetime warranties on the parts, but for this price it's darned good coverage. 

If you're looking for performance, stability and a quiet ride, the Fitnex B50 upright exercise bike is a solid machine on the budget end of the spectrum.
Don't look for lots of fancy bells and whistles; you won't find them, but if results are more important than extras, you can't go wrong at this price point.

Show me other Fitnex Exercise Bikes