Why The Exercise Bike is Good for Cardio
Using an exercise bike for good cardio workouts is an excellent way to follow a low-impact fitness regime that is safe and highly effective. You can actually improve your health while sitting down.
While it is true that indoor biking is not a weight-bearing exercise, and therefore cannot provide certain benefits, its aerobic foundation can get you into a cardiovascular zone where you can condition your heart and lungs, lose weight by burning fat, and strengthen the muscles in your lower body.
Reach for the Target Heart Rate Zone
Getting good cardio from the exercise bike will mean getting your pulse up high enough to give your cardiovascular system a heart-pounding, heavy-breathing workout.
There are several different levels or "zones" of heart rate target training. To determine your own zones, you first must know your maximum heart rate (HR), which is the theoretical number of beats your heart is capable of safely beating in one minute.
To find your own max number, follow a simple formula:
Subtract your age from the number 220.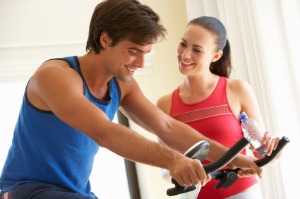 For example, if you are 50 years old, the formula is 220 minus 50, which equals 170 beats per minute. That is the maximum Target HR your heart is safely capable of beating.
Next, is to determine the zones. The first zone is about 50% of the max HR, or around 85 beats per minute for a 50-year-old. The next higher level, called the Fitness Zone, is 60% to 70% of the max heart rate. This is the minimum you should strive to achieve to get a good cardio workout from your exercise bike.
Still higher is the Aerobic Zone that is 70% to 80% of your estimated max HR. This level really starts to condition the heart and lungs, as well as improve blood volume and increase the size of the blood vessels. Typically, your goal in this zone during a 20 to 30 minute workout should be to maintain your heart rate between 119 to 136 bpm (beats per minute).
The top two target levels are the Anaerobic Zone (80% - 90%) and the Redline Zone (90% - 100% of your max HR) which can be achieved in short spurts during intense interval training for optimal results.
Cardio Conditioning at Home
Riding an exercise bike for good cardio workouts is an easy, convenient, and tolerable way to achieve aerobic workouts while sitting down. You won't put the stress on your knees, hips, and ankles that you would with a "weight-bearing" exercise such as walking or running on the road or on a treadmill.
Indoor cycling is an excellent choice for low-impact cardio conditioning using the Target HR zone method, and a good calorie burner.
Exercise Bike Workouts – Making the Time Spent Exercising Fun
---