The Cybex Remanufactured 700c Upright Bike – Comfortable, Durable
The Cybex Remanufactured 700c upright bike packs a powerful punch for anyone wanting an in-home exercise bike that can keep up a grueling pace while holding up against multiple users and daily, long term use. It's a commercial grade machine repurposed for in-home use.
The Bike
The Cybex 700c is one of the best remanufactured upright exercise bikes you can find. The company that's remanufacturing it pulls out all the stops to break it down and rebuild it good as new, and the whisper quiet ride reflects that. It's quiet, it has a wide range of programs and it's comfortable even when you're pedaling at top speed or you're pushing your endurance limits.
The Specifications for the Cybex Remanufactured 700c upright bike are: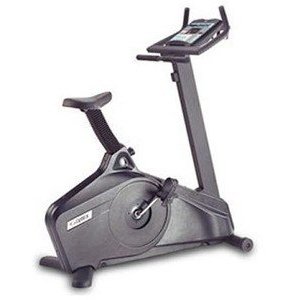 15 programs
21 fitness levels
Multi position handle bars
Upholstered, adjustable seat
Commercial grade
Hybrid eddy braking system
Workload range: 40-600 watts
Dimensions: 43" X 31" X 53"
Maximum user weight: 300 pounds
Warranty: Usually 1 year frame, 1 year parts & labor*
*Depending on who remanufactures it.
Compare Cybex Exercise Bikes on the Company Site

The Buzz
Once again the Cybex brand name speaks for itself. You'll have to go through quite a few reviews to find any complaints about the Cybex Remanufactured 700c upright bike. It seems like just about anybody who uses it has good things to say.
Most of the users are people who are well aware of the commercial reputation of the brand. It's not surprising that they are willing to pay as much as they would for a top-rated in-home upright bike in order to get a remanufactured Cybex. They've seen how they performed in commercial gyms and know they can rely on them for durability and a smooth ride.
One of the few complaints you'll find is that the weight limit isn't as high on this one as it is for some other models. Rather than 400 pounds, the weight limit of the Cybex 700c is just 300 pounds.
It's still respectable, but with the forged steel frame and precision manufactured parts, some users are surprised by the limited upper weight range. In a rehabilitation setting, this could be a problem, but most home users won't have this problem.
Our Take
It's hard to dislike the Cybex Remanufactured 700c upright bike. It has so much going for it, including a nicely padded, adjustable, pneumatic bike seat. You'll have to look long and hard to find an upright exercise bike that's as comfortable or durable as this model.
It's interesting to note that many smaller colleges and some high schools opt for a remanufactured Cybex for their training rooms because they're getting so much at a great price.
Although you're still paying between $1095 and $1,360 for a refurbished Cybex 700c, it's well worth the price and will last for years.
Show me other Cybex Exercise Bikes