The Bladez Fitness Aero PRO Indoor Cycle – A Stylish Spin Bike
The Bladez Fitness Aero PRO Indoor Cycle is an indoor spin cycle developed by the Bladez Fitness division of BH North America, a company known for its development of reasonably priced fitness equipment using top quality parts and construction.
The Bike
The Bladez Fitness Aero PRO Indoor Cycle is a hefty exercise bike made with top quality parts, built for long life and meant to take a pounding. The self-generating power means there's nothing to plug in - your own energy drives the bike and powers the console for any programs you choose to use.
The specifications for include: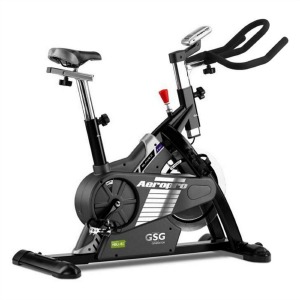 Backlit Two Color LCD Monitor
12 Preset Programs
Heart rate monitor
32 resistance levels
31 pound flywheel
Adjustable Saddle Seat
Racing Style Handlebars
Transport Wheels
Water Bottle Holder
Max. user weight: 330 lbs
Dimensions: 46" x 23.5" x 52"
Warranty: Lifetime on frame, one year on parts & labor
The Buzz
UPDATE: The Aero PRO is an older model.  You may be able to find a few models left at Amazon, otherwise check out the entire exercise bike lineup at the Bladez Fitness Site.
Reviews of the Bladez Fitness Aero PRO Indoor Cycle usually compliment the smooth ride first and then mention the smooth magnetic braking system.
The adjustable, anatomically designed seat gives you a realistic biking experience and adjustable pedals make for an exceptionally comfortable ride that encourages riders to push the limits of their spinning routine.
The 32 levels of resistance and 15 exercise programs are quite popular with everyone from individuals trying to lose weight to those who are using the Bladez Fitness Aero PRO as a part of a rehabilitation or endurance program.
Reviews also noted that this is a powerful spin bike that is built of high quality materials that last for years. There were very few complaints from owners, and when they did have to contact customer service they felt they got a quick response and exemplary service and support.
Our Take
This is a stylish spin bike that can hold its own against many higher priced, commercial spinners. It's sleek and attractive, but that's not what impressed us the most. The smooth, silky ride and comfort of the Bladez Aero PRO Indoor Cycle was what captured our attention.
The adjustable seat and pedals completed the comfort package, and durability is built into the top quality parts. If we have a complaint, it's that the warranty is only five years on the frame and one year on parts and labor.
It's a decent enough warranty, but it's not often that we find an exercise bike that we think could hold its own with a longer guarantee. The bottom line?
You probably won't have to use the warranty, but if you do their customer service representatives will quickly find a solution for whatever problem you're having with your Bladez Fitness Aero PRO Indoor Cycle.
Show me other Bladez Exercise Bikes