Exercise Bike Customer Feedback
by Michael
(Austin, Texas)
I bought my Life Cycle in the mid 1980s and it still functions great. They may be expensive but they are worth it if you use it. I am a very satisfied customer.
Join in and write your own page! It's easy to do. How? Simply click here to return to Exercise Bike Consumer Reviews - Rave or Rant!.
NordicTrack Grand Tour Bike Customer Review
by Maria
(Cleveland, Ohio)
DO NOT purchase this bike. This bike was delivered defective. The resistance is only at one level. The resistance is very tight at level 1. There is no change to resistance.

As I increase the resistance, called customer service and was sent a new resistance motor. Had to replace ourselves with instructions from a you tube video sent to us by customer service. The video replacement instructions were of any entirely different bike and not even close to how my bike is set up.

After all this trouble, the new motor did not fix the issue. Called customer service again and they were willing to replace other parts. At that point, I decided I no longer wanted this bike.

Spoke to returns and they were more than willing to refund my money which takes 3-4 weeks to refund me. Which is absurd!

The best part was they told me to dispose of the bike. Just throw it away! That should speak for itself! Bike is not worth the price!

Once I have my refund, I will gladly put this item in the trash where it belongs!
Weslo Pursuit R 4.8 Recumbent Bike
by Robin
(Orange, CA, USA)
I have had this bike for many years, and everything works precisely as advertised. One time, the battery ran down, and I replaced it. No parts EVER failed, and it's been MANY years - I don't even remember how many, but definitely longer than a decade!

The bad review here is unwarranted and unfair. I have attached an iPad to it to run interactive apps like Bit Gym, and I attached it with the Spider Monkey Tablet Tail: it fits!

It has a fan, that works great every time. It has built-in workouts that I no longer need because of the apps, but they work. It has resistance that is fairly unlimited, and I use that every workout. I have logged many, many, many miles of riding on this bike! (You can check my records at Map My Ride if you don't believe it.)

It takes your heart rate, even with the Tablet Tail attached, so I can enter the data into Map My Ride. I love this bike and won't get another until it breaks down. Since I've had it a decade or more, I kind of doubt that will happen, but it could. So far, so great!

Unless you want a bike with super computerized features, this works great! And it has longevity!
Join in and write your own page! It's easy to do. How? Simply click here to return to Exercise Bike Consumer Reviews - Rave or Rant!.
LifeCore Bike - Forget About Repairs
by Dave Sutherland
(Boulder, Colorado)
We bought a LifeCore Fitness bike about 5 years ago, and have used it moderately but consistently. Then the tension cable broke.

The LifeCore certified repairman - who happily took our money to diagnose the bike's trouble - told us this part is unavailable and is back ordered. The customer rep at LifeCore told us they don't keep the parts in stock but have ordered them FROM CHINA and they don't know when they will come in.

THAT WAS OVER SEVEN MONTHS AGO. No replacement part, and we are unable to use the bike.

Clearly, LifeCore either (1) doesn't care about or expect to repair bikes or (2) thinks we'll just buy a new bike because the repair is too difficult.

We may buy a new bike alright, but it will never be another LifeCore.

Join in and write your own page! It's easy to do. How? Simply click here to return to Exercise Bike Consumer Reviews - Rave or Rant!.
Marcy Recumbent Bike User Review
by Deborah Houston
(Ringgold, GA USA)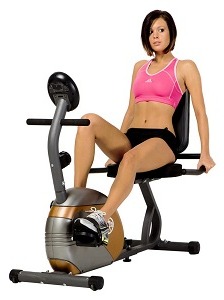 Marcy Recumbent Mag Cycle (2011 model)
Just want to say how much I have loved my Marcy recumbent bike. I bought my bike over 21 years ago and am only now having to replace it. The pedals began making a knocking noise and after examining them, my husband tells me the welding has broken. This bike has been used by myself, my husband and my daughter over the last 21 years. Thanks for making a good stationary bike. I am now looking for an upright bike and am considering the Marcy Club Revolution.

Marcy Exercise Bikes – Affordable, Compact Cardio Trainers

Join in and write your own page! It's easy to do. How? Simply click here to return to Exercise Bike Consumer Reviews - Rave or Rant!.
Nordic Track R21
by Stan
(Grande Prairie, Alberta, Canada )
My first review of this bike does not actually include comments about using it. That will be my second review. The bike arrived on time as predicted. This bike is very well packaged. The back rest is somewhat deformed but other than that all parts were in tact and assembly was smooth. This is a solid bike. One thing I didn't think about was the height of the console. My old Startrack had a lower console so I could watch my tv which is on a table. With the new bike the console completely blocks view from the tv unless you have it higher in the wall. I've had to place my bike to the side so I can view the tv.
I've made one call to Nordic Track and as mentioned on many internet sites it is very difficult to speak to a real person. I'm hoping I don't have to use this service often.
They promote extended warrantee packages but I'd be surprised if they have a tech available in the northern Canadian city I live in.
I'm wondering if my Garmin heart rate chest strap will work with this unit?
Is the Ifit coach worth it? Comments please. I mostly use the indoor bike in winter so it seems like a waste of money. There are a lot of negative comments about the program.
Now to try the bike.
Sole SB700 Exercise Bike Shipping Problems
by Roger Westfall
(Bakersfield, California, USA)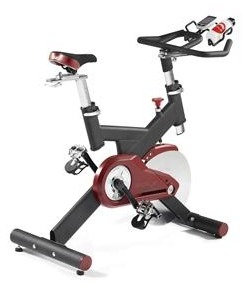 I ordered a Sole SB700 bike July 16th from Sole direct. Ended up finding out they were out of stock a week later. On July 31st I called and was offered $100 off my order and was told they were shipping August 1st-3rd. I guess someone was supposed to have called me but I had to make the calls. Today is the 3rd and I'm starting to wonder if I'm even going to get a bike.

I've emailed, I've posted on their Facebook page (because I noticed they got back to customers pretty fast). and I've called. I've not got a single response from the Facebook or email. When I called I didn't get any real answers either. I was told "it should have shipped we are just waiting on a tracking number". My credit card hasn't been charged yet and with computers had it been shipped tracking numbers should be pretty quick. So bottom line is nobody is telling me anything. I have to be honest I'm not impressed so far with customer service or my experience.

Today is August 6th and I called again and asked about the status of my order and when I spelled my last name he just put me on hold without a word. Came back on a bit later and said he'd have to contact the shipping company and he'd call me back. I did tell him my credit card has not been charged so I find it hard to believe it has shipped.

I honestly have no idea how bad or good the Sole SB700 bike is. I find the sales department at Sole rather rude and not very helpful.

Proform Le Tour de France Indoor Bike Consumer Review
by Brad
(Orange Park, FL)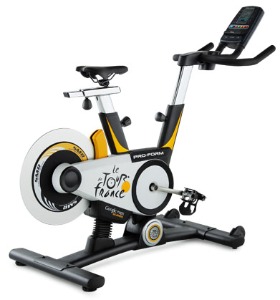 I guess I must have received a lemon. The 5th day upon receiving the Proform Le Tour de France Indoor Bike the incline feature quit working and the bike defaulted to a max incline position. I spoke with Customer Service and they thought it was just a loose connection or bad wire harness...so they sent me replacement harnesses. After these did not resolve the issue, they sent another console. Still nothing. To make a long story short, it turned out to be the circuit board.

Well, 5 minutes into an "exercise bike" workout (previously I had been using the Map Your Ride feature) ALL manual controls have quit. As I type, the bike is reading an 85 rpm cadence and the time is clicking away. Like I stated earlier, maybe I just received a lemon. But from my perspective, Proform should have conducted more testing before putting this bike out to the market and too bad to me for being sucked into buying the Proform Le Tour de France bike and getting something that was so new there weren't any customer reviews yet.