Tunturi Exercise Bikes Offer Superior Value

With their distinctive Scandinavian style, Tunturi exercise bikes represent the same superior value as the company's outdoor bikes. Tunturi is well known as a pioneer of bicycle and fitness trainer designs and can claim many patents to its legendary name.
About the Company
The Harkke Brothers of Turku, Finland, started Tunturi in their small bike shop in 1922. Tunturi is a Finnish word for "highland" or "fell"; especially when referring to the treeless high plains in Lapland. As the company grew, the small factory began producing other products, such as mopeds in the 1950s.
In the 1970s, Tunturi Oy Ltd began making fitness equipment including stationary exercise bikes, rowers, treadmills, and crosstrainers. In 2003, the company was acquired by the Accell Group, Europe's largest producer of fitness equipment that owns the brands Koga Miyata, Batavus, Red Line, Lapierre, and Winora. Tunturi products are distributed in North America by Accell Fitness.
About the Bikes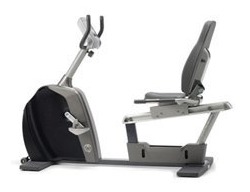 Tunturi exercise bikes are noted for unique design, silent operation, and superior component quality. But all this comes at a hefty price for an upright or recumbent, as the lowest price for the basic models starts at $1,000.
All Tunturi models feature proper ergonomic adjustments in the seat (height, horizontal and tilt), front handlebar tilt (angle and height), and the console (tilt). Additionally, the recumbent exercise bikes have a smooth, gliding alloy rail system for seat adjustment, and a low step-through frame.
Compare the Current Exercise Bikes at the Tunturi Website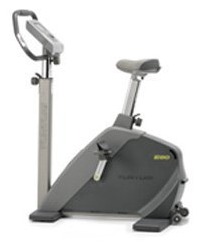 The higher priced Tunturi models ($2000+) offer deluxe features such as a color graphics LCD display, up to 120 functional programs including heart rate control and fitness tests, and 8 language options. The key features of these exercise bikes are the patented T-Ride™, a graphic simulation of outdoor biking displayed the color console; T-Road™ that utilizes the smooth electromagnetic braking system to deliver a realistic replication of the resistance of outdoor biking; and T-Music™ to provide a motivating beat to pedal to.
Is it Too Much Bike?
The unique design, silent operation, and superior component quality make Tunturi exercise bikes a worry-free investment for your fitness needs. The target market is for individuals who take their workouts seriously and don't mind spending $1,500 on an upright bike. Reviews on the models are favorable as you would expect, so the only question is: is it more bike than you really need?
Reviews
Tunturi E60 Upright - Better value when compared to the E80 model that sells for over $2000. Optimal ergonomics and expansive programs make this bike a great choice for getting into shape.
Tunturi E80 Upright - Offers comfortable pedals that can be used even without wearing shoes. Electromagnet brake, large flywheel, easy mount frame, multiple adjustment points.
Tunturi E60R Recumbent - Outstanding ergonomics and innovative training programs; one of the best designed and best built recumbent bikes in the world.
---
Return to the Best Exercise Bikes Home Page