Marcy Exercise Bikes – Affordable, Compact Cardio Trainers

The very affordable line of Marcy exercise bikes leave off the frills and concentrate on giving the user a solid and stable frame, a simple display, and a smooth workout experience.
About the Company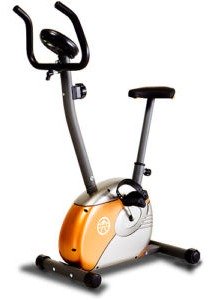 Marcy is the leading brand name from the California-based Impex Fitness, Inc. Other brands in the stable include Apex, Hers, Competitor, Monster, and Iron Grip Strength. Along with exercise bikes, Marcy makes home gyms, elliptical trainers, steppers, and various fitness accessories.
This leading low cost brand is sold online as well as at local mass market retailers such as Wal-mart and Sears, plus sporting goods stores such as Sports Authority and others.
About the Exercise Bikes
Marcy has been making indoor bikes for a number of years and is noted for several innovations, including the distinction that they were the first company to introduce a home recumbent bike with flywheel resistance. They make just one model each of three types of exercise bikes:
A Fan Bike that features dual action arms for a total body workout and an air resistance system that uses the air flow from the front flywheel to provide the tension or resistance.
Compare Marcy Exercise Bikes Here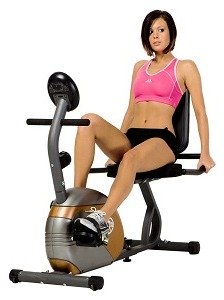 The Upright Mag Cycle is noted for its simplicity. It has an adjustable seat and the readouts on the console give you the basics of time, speed, distance, and calories burned.
The Recumbent Mag Cycle is popular with seniors who need an easy-step through design, sturdy frame, easy-to-use console, and smooth pedaling motion.
Designed for Beginners and Seniors
These affordable designs, priced from $120 to $170, are geared more towards participants who are new to exercise as well as senior citizens who need a compact cardio trainer for limited use of about 30 minutes per day. Although the equipment is basic and offers only simple display readouts and no frills (such as a cup holder or heart rate monitoring), reviews by consumers show that most buyers are happy with the products. If you are in the market for a budget model for moderate use, Marcy exercise bikes will be enough to serve your needs.
Reviews
Marcy Classic Upright Fan Bike - The Marcy Fan Bike offers a rush of cooling air flow that not only provides a breeze while you workout, the fan flywheel is also the source of the bike's resistance system.
Marcy Upright Mag Cycle - This compact and lightweight exercise bike is a good fit for tight spaces and small budgets.
Marcy Recumbent Mag Cycle - One of the best recumbents under $200.
---
Return to the All Exercise Bikes Home Page