The Schwinn 170 Improves Upon the Popular 130 Upright Exercise Bike
The Schwinn 170 exercise bike is the big brother of the popular 130 upright model, with more resistance levels, more workouts, wireless heart rate capability and other stepped up features.  At just under $350 on sale, it's a great choice for those looking for a solid bike that won't break the bank.
The Bike
There are two LCD windows on the display, offering workout metrics such as speed, pulse, completion %, calories, distance, RPMS, time, course and heart rate zone.
Let's take a look at some of the specs on the Schwinn 170...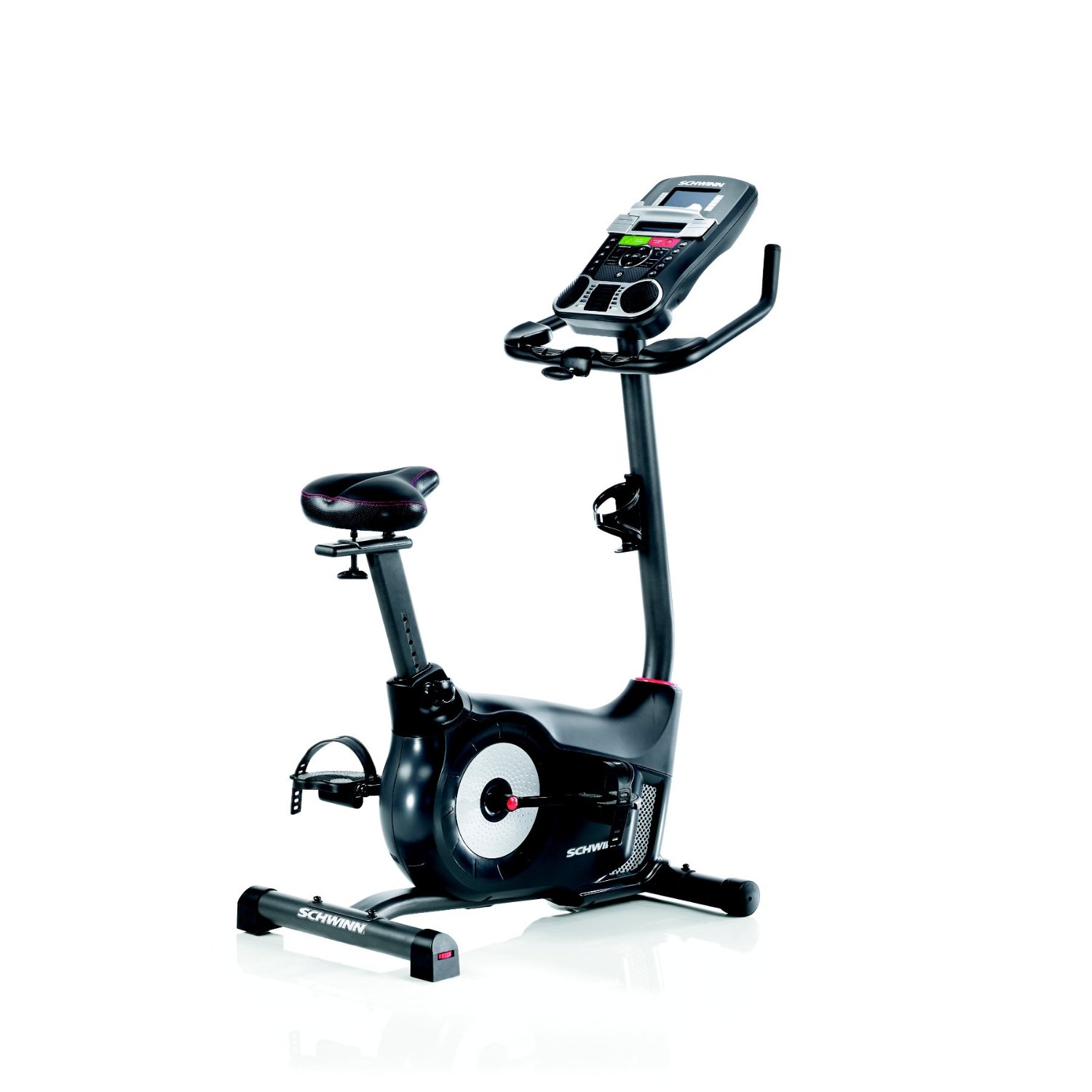 ECB Magnetic Brake
25 Resistance levels

29 Programs & 12 Profile Courses
Contact heart rate grips and wireless
Adjustable handlebars, seat, and console
Rear stabilizers, frame levelers, transport wheels
Max user capacity: 300 lbs
Uses AC adapter (included)
Dimensions/Weight: 41"L x 21"W x 56"H / 63 lbs
Warranty: 10 yrs frame, 2 years mechanical, 1 year electrical and 90 days labor
Check out the popular Schwinn 170 Upright Bike on sale now!
The Buzz
The Schwinn 170 exercise bike is a nice upgrade to the 130 model, and reviews highlight the fact that the company has made improvements in many key areas.
You get a large number of programs, a total of 29 as compared to only 22 on the 130 upright model. You also get 5 more levels of resistance, 2 additional user profiles, a larger contoured seat, 3-piece pedal crank as opposed to 1-piece and forearm rests on the handlebars.
Some of the highlights from current user reviews include the 3 speed fan, water bottle holder, sound system, transport wheels and stabilizers...all of these are much appreciated features.
You can also sync your workout data with popular app My Fitness Pal as well as their own Schwinn Connect system.
So you really get just about everything you need without having to pay alot for it.  That's why the Schwinn exercise bikes are so popular.
Our Take on the Schwinn 170 Exercise Bike
The Schwinn 170 is a nice improvement on previous models as well as the 130.  Because it offers more resistance levels and workout programs, it's definitely worth the additional $50 or so, so if you are between the 130 and the 170 the latter is probably the better choice.
It doesn't have all of the bells and whistles and modern features such as internet connectivity that you might find on more expensive exercise bikes, but for the price it definitely does the trick.  The workout programs and resistance levels are enough to give you a great cardio workout, and in the end that's what it's all about.